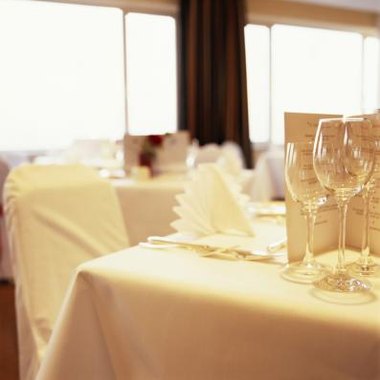 Display paper napkins to look their best on a party table by folding each of them into an attractive design. Traditionally, cloth napkins have often been folded into pleasing shapes but, in fact, modern paper napkins lend themselves much better to folding because the creases stay in longer and remain sharper. Create your napkin designs several hours before your party so that you don't have to panic at the last minute if you have difficulties. Use quality three-ply paper napkins and make sure that you have spares in case of mistakes. Where you position the napkins in each place setting will depend on the design.
Napkin Fan Design
Step

1
Fold a paper napkin in half.
Step

2
Begin at one of the narrow ends and make folds in alternating directions across the width of the napkin at 1-inch intervals. The napkin will resemble a tightly pressed together accordion when you have finished.
Step

3
Slip a napkin ring onto one end of the folded napkin. Push it around 1/4 of the way up.
Step

4
Release the napkin so that the folds expand. The napkin will now stay in place in the ring.
Step

5
Fan out the pleats on the longer folded part of the napkin.
Step

6
Lay the napkin fan flat on the center of a plate at each place setting.
Pyramid Napkin Shape
Step

1
Fold a paper napkin in half corner to corner.
Step

2
Take one 45-degree angle corner over to the 90-degree angle (so that it covers half of the 90 degrees) and fold into position.
Step

3
Repeat the previous step with the other 45-degree angle corner. You now have a diamond shape.
Step

4
Turn the diamond shape over left to right.
Step

5
Fold the top of the diamond shape down to the bottom so that you are looking at an upside down right-angle triangle with a slit down the middle.
Step

6
Grasp the napkin where the slit meets the center of the triangle's longest side and raise it upward. Leave the other two sides of the triangle touching the work surface. A triangular pyramid shape will be formed.
Step

7
Stand the napkin pyramids on the left hand side of each place setting.
Tips & Warnings
Make sure your hands are clean and dry before folding paper napkins.

You can buy paper napkins of such high quality that they almost appear to be made of cloth. It is acceptable to use this sort of napkin at some formal occasions and they are better for folding.
Photo Credits
David De Lossy/Photodisc/Getty Images