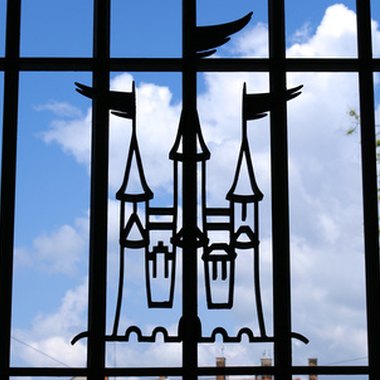 Not just for children and families, Disneyland offers newlyweds the chance to enjoy the thrills of the Disney theme parks. Disneyland resort honeymoon packages do not limit couples to a stay at one of their resorts in California or Florida, as there are Disney honeymoon resort destinations worldwide.
Resort Locations
Disney resort locations within the United States include the Disney Grand Californian Hotel and Spa, Disneyland Hotel and the Disney Paradise Pier Hotel in Anaheim, California. Walt Disney World Resorts in Orlando, Florida include the All-Star Resorts, Disney's Paradise Pier Hotel, Disney's Port Orleans resort and 12 other area Disney resorts. Couples who love to travel can enjoy a stay at one of Disney's international locations. The Disneyland Resorts in Paris, France, include the Disneyland Hotel near the Magic Kingdom Park, Disney's Hotel New York, Disney's Newport Bay Club Resort and Disney's Sequoia Lodge for a taste of the outdoors. Additional Disney Paris resorts for honeymooners include Western-style resorts, including the Disney Hotel Cheyenne, Disney Hotel Santa Fe and the Disney Davy Crockett Ranch. The Disney theme park in Tokyo, Japan offers honeymooning couples the options to stay at the Disney Ambassador Hotel, Hotel Miracosta within the Disney Sea Park and the Tokyo Disneyland Hotel. Disney's Hong Kong locations offers honeymoon packages in Victorian or Hollywood-style accommodations.
Accommodations
Disneyland resort honeymoon accommodations come in four different price ranges: deluxe, deluxe villa, moderate and value. Deluxe and deluxe villas offer such amenities as views of the park or resort, private balcony, fireplace, guest bathroom, complimentary DVD rentals and Internet access, whirlpool tub and free snacks. Moderate accommodations consist of standard rooms and suites with views of the resort. Value resort accommodations, the least expensive, offer two different guest room sizes and have views of the pool, courtyard or parking lot.
Amenities
Including in-room amenities, honeymooning guests at any of the Disneyland resorts receive an admission ticket for a Disney park every day of their stay. Also available for guests on their honeymoon are couple's massages, private fireworks cruises and private dinners at a luxury Disney restaurant, all arranged with the help of a Disneyland resort concierge.
Special Considerations for Newlyweds
Newlyweds on their honeymoon at a Disneyland resort can pick up "Just Married" buttons for their shirts and purchase honeymoon photos taken at the park. If a couple did not use all of their daily theme park passes, they can upgrade them for use later, such as for an anniversary trip.