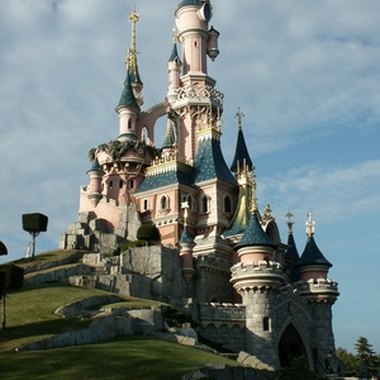 Disneyland operates a number of amusement parks around the world, including locations in Paris, France, Orlando, Florida and Tokyo, Japan, but the original Disneyland Resort operates from Anaheim, California and incorporates a network of hotel locations and eateries. The choice of accommodations near the original resort include hotels designed for easy access to the park, lodging catering to special family interests and overnight housing conveniently located near Mickey's home, as well as other venues in Orange County.
Disney-Owned Hotels
Official Disney Resort hotels include three lodges on the park grounds. Corporate hotels feature family-focused entertainment that uses the theme park cartoon characters. The Grand Californian mimics the Arts-and-Crafts Movement of the turn of the 19th century with high wooden ceiling beams, dark hardwoods and stained-glass lighting. The Disneyland Hotel offers a kid-themed color decor and large graphics, while the Paradise Pier Hotel focuses on an ocean theme with tropical colors and palm trees. All of the official resort hotels have water slides, swimming pools, lobby souvenir shops loaded with Disney goods, and on-site dining. An extra attraction is the early park entrance for hotel guests. All hotels are a few minutes walk from the park entrance.
Anaheim Hotels
Anaheim offers hotels officially sponsored by Disneyland, called Good Neighbor Hotels, as well as a number of large and small private hotels. The Howard Johnson by Disneyland Park incorporates a seven-acre family resort that caters exclusively to guests of the hotel. The play area features gardens, water park and a pirate-themed playground. The Howard Johnson is a short walk from the Disneyland entrance. The Disneyland Resort website allows guests to select non-resort hotels that are part of the official neighborhood and also allow an automatic referral to the Good Neighbor hotel options when park hotels do not have available rooms.
Economy Hotels
Economy and inexpensive Disneyland Resort area hotels include commercial chain accommodations at the Travelodge on West Ball Road, just over a mile from the park entrance, and other Travelodge locations on South Harbor and South Beach Boulevards, less than a five-minute drive from the Disneyland Resort. Travelodge hotels have swimming pools and restaurants within walking distance The Ramada Limited on South Beach Boulevard also caters to families with rooms featuring double queen beds and roll-away options. The rooms at the Days Inn and Suites Fountain Valley/Huntington Beach, nine miles from the park, include free breakfast.
Strategically Located Hotels
Visitors to Disneyland also have the option of selecting accommodations strategically located within a short drive of the resort, as well as a short trip from Knott's Berry Farm amusement park in Buena Park and close to the Pacific Ocean in Huntington Beach. Disneyland is less than a 30-minute drive on Orange County freeways from the white-sand of Huntington Beach, when traveling in non-rush hour traffic. Hotels located midway between the Disneyland and the ocean include the Days Inn and Suites Fountain Valley/Huntington Beach, Howard Johnson Huntington Beach and Best Western Westminster Inn. All hotels feature lodgings suitable for families. The Best Westminster Inn offers king-bed suites with dining areas, large-screen televisions and full-size sofas for après-amusement-park viewing. Hotels also feature heated pools and restaurants within walking distance from the accommodations.