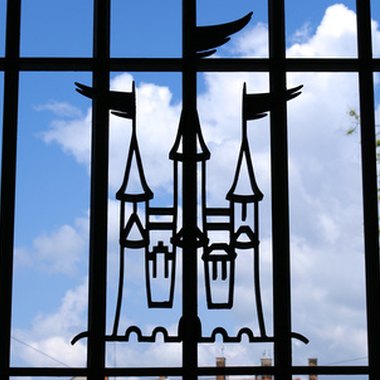 Also known as Euro Disney, Disneyland Paris and its resort hotels are located in the Marne-la-Vallée, a district that is 20 minutes away from the downtown area. Like the Disneyland resorts in the U.S., the Paris-area Disney resorts range in price so families of all income levels can stay near its two theme parks. In addition to the Disneyland Hotel, there are four resorts for visitors to choose when planning a trip to Disneyland Paris.
Disney's Hotel Cheyenne
The most affordable of the Disneyland Paris resort hotels, Disney's Hotel Cheyenne is in an old U.S. Western town, which continues the Frontierland experience of the theme park. This hotel features teepees, Fort Apache, the Nevada Game Arcade, pony rides, mechanical bulls, saloons, the Little Sheriff's play area and activities for children on-site. The rooms at this resort have decorative touches such as a horseshoe on the front of every door and bunk beds that add to the charm of the Western theme.
Disney's Hotel New York
With buildings resembling New York apartments and yellow taxis adorning the streets, Disney's Hotel New York brings a taste of the Big Apple to its guests. This resort hotel is near the Disney Village, and guests can enjoy its sauna and steam bath in the fitness room, tennis courts and outdoor ice-skating rink. Children's activities include the Times Square Game Arcade, a Children's Corner decorated with pictures of apples and a game room. The art deco-them of the resort is seen throughout the Hotel New York's rooms and in its restaurants.
Disney's Newport Bay Club
On the waters of Lake Disney is the Newport Bay Club resort, which resembles a 19th century New England coastal town. The nautical-themed resort gives guests the feeling they are in an exclusive yacht club with restaurant names such as the Captain's Quarters Bar, Fisherman's Wharf and Yacht Club. The Newport Bay Club provides its guests with sauna and steam bath in the fitness room and room service. Accommodations range in size from standard rooms to suites, with the option to pay extra for a lakeside room. Activities for children include the Sea Horse Club Game Arcade.
Disney's Sequoia Lodge
Inspired by the national parks of the U.S. and the Pacific Northwest, Disney's Sequoia Lodge features a grand lodge-inspired fireplace in the Redwood Bar and Lounge, furniture made of solid wood, the Kit Carson's Game Arcade and surroundings that look like a forest. The on-site restaurants enhance the feeling of staying in a lodge with names such as the Hunter's Grill and Beaver Creek Tavern. Guests at the Sequoia Lodge can stay in a standard room or suite, both of which are decorated with wooden furniture and quilts, and offer views of pine trees.