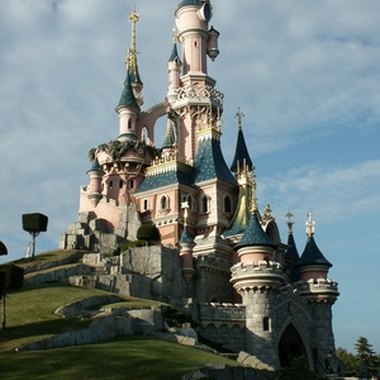 The Disney theme parks in Anaheim, California, offer something to do from the early morning hours to well past midnight. Disneyland, Disney's California Adventure and Downtown Disney can easily take up much of a Southern California vacation. Time spent in your hotel room will be minimal. Rather than spending lots of money on luxury accommodations you will barely see, consider an affordable, safe motel near all the action at Disneyland.
Mardi Gras Motel
The Mardi Gras Motel is only an eight-minute drive from Disneyland. Like many Disney accommodations themselves, the motel has a lively theme: the carnival season of Mardi Gras. It's small, with only one floor and 18 traditional guest rooms. This allows the staff to give attention to each guests, such as by answering visitors' questions. They can recommend nearby places to eat, play golf, go dancing or entertain the kids. Guests will find tennis courts and golf courses within a mile of the hotel. Refrigerators and microwaves are available for all rooms upon request, and six of the rooms are equipped with kitchenettes. For those who find cooking on vacation isn't appetizing, several restaurants are only a few feet from the Mardi Gras Motel, including Oodles of Noodles, Yogi's Teriyaki, Little Caesars Pizza and Brito's Taqueria.
Alpine Inn
At only 100 feet from the entrance to Disneyland, the Alpine Inn feels almost as if you were staying in the theme park itself. While most motels have a basic pool, the Alpine Inn offers a heated outdoor pool so that guests can enjoy it year-round. Microwaves and mini-refrigerators in each guestroom make it easy to eat in your room. The Alpine Inn also offers specially discounted Disneyland Park Hopper passes. Disneyland is not the only thing in easy walking distance of the Alpine Inn. This motel is equipped for the business traveler. The Anaheim Convention Center is directly across the street. On-site business services include photocopy services, fax services, voice mail and high-speed Internet connections. Nearby eateries include an IHOP Restaurant, Panda Kitchen, Subway and Gandhi Place.
Travelodge Anaheim on Disneyland Drive
Travelodge Anaheim on Disneyland Drive is also within walking distance of Disneyland, Disney's California Adventure and the Downtown Disney District. Its outdoor heated pool provides an ideal viewing spot for the nightly fireworks display of the Disney theme parks. In addition to traditional motel amenities, each room has its own microwave and refrigerator, making in-room snacking a breeze. Knotts Berry Farm is within a 15-minute drive of this Travelodge, while Newport Beach is only a 30-minute drive from the motel. Restaurants within walking distance of the Travelodge include Cuban Pete's Caribbean Grill, Spaghetti Station Restaurant and the Rainforest Cafe.
Candy Cane Inn
With a name sure to delight younger kids, this themed inn offers motel-style accommodations and a short walk to the entrance of Disneyland. Beyond the traditional motel amenities, special touches like plantation-style wood shutters differentiate it from the average motel room. Premium rooms offer an extended checkout until 2 p.m., enabling you to enjoy the parks for an extra half-day on your date of departure. The Anaheim Garden Park is also within walking distance. It has several restaurants, including Roy's Hawaiian Fusion Cuisine, Bubba Gump Shrimp Company, P.F. Chang's China Bistro and California Pizza Kitchen.