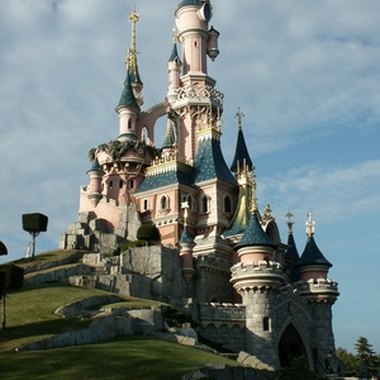 Disneyland parks sell traditional mouse ear hats and also special wedding ears, with an added top hat for Mickey and a veil on the Minnie ears. Disney resorts also offer honeymoon hotel accommodations at the various amusement park locations throughout the world. Celebrate destination honeymoons in California, Florida, France and Japan or stay at the special wedding lodging at Disney's hotels in Orlando, Florida or at the new Aloha Aulani! Hotel and Resort in Hawai'i.
Original Disneyland Honeymoon Hotels
The Disneyland Hotel at the Anaheim theme park is the original official Disneyland Hotel. Adventurous honeymooning couples can elect to stay in the Pirates of the Caribbean Suite or the Mickey Mouse Penthouse. Tamer honeymoon accommodation choices feature multi-bedroom suites or clubrooms with balcony or patio access. Disney's Grand Californian Hotel and Spa, also on the Anaheim theme park grounds, is the flagship of Disney's honeymoon hotel line and offers American Craftsman-style architecture and an AAA Four-Diamond hotel experience. The on-site Napa Rose restaurant serves four-course meals to celebrate the nuptials. The Grand Californian also offers a spa and shopping in the adjacent Disney mall. Hotel accommodations at this hotel offer a choice of upscale rooms or suites.
Disneyland Paris Honeymoon Hotels
Disney offers two locations for newlyweds outside the United States. The Magic Kingdom at Disneyland Paris replicates many of the features of other parks and Disney corporate honeymoon planners recommend dining at Disneyland Paris' Blue Lagoon Restaurant for a quiet, secluded dinner under a Disney artisan created sky complete with fireflies and stars. Disney's Paris honeymoons options include hotel brunches for the couple and afternoons of tennis, golfing or spa treatments. Disneyland Paris also features theme lodging at several resort hotels, including Disney's Hotel Cheyenne, Hotel Santa Fe and the Davy Crockett Ranch.
Disneyland Tokyo Honeymoon Hotels
Disneyland Tokyo offers accommodations suited for honeymooners at the Art Deco-themed Disney Ambassador Hotel and the newest park hotel, the Tokyo Disneyland Hotel. The Ambassador features both rooms and suites and also a Donald Duck Room for newlyweds who are fans of the famous bird. On-site dining includes several restaurants, a grill and a diner, in addition to a cocktail lounge. The new Tokyo Disneyland Hotel offers couples a more upscale experience with the option of rooms and suites with personal concierges. The hotel features an on-site gourmet restaurant, cocktail lounge and an outdoor swimming pool.
Stand Alone Disney Honeymoon Hotels
Honeymooners interested in accommodations at a Disney hotel that doesn't include a trip to a theme park have a choice of Disney hotels in Florida and, in 2011, in Hawai'i. Disney resorts hotels in Florida offer honeymooners a choice of a wide range of themes and locations. Florida rooms and suites for newlyweds include accommodations at eight deluxe hotels, five hotel complexes categorized as moderate, and five hotels Disney classifies as value accommodations. Disney employs special operator assistance for honeymoon planning and hotel selection. In addition to the live assistance, couples can request printed brochures that outline the basic hotels available in Florida with a list of features and on-site eateries.