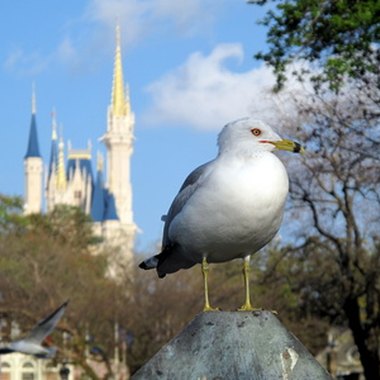 Epcot, one of four Walt Disney World Resort theme parks in Florida, stands for "Experimental Prototype Community of Tomorrow" and is the final theme park actually envisioned by Walt Disney. Encompassing 300 acres, Epcot includes two separate areas, known as Future World and World Showcase, that require at least two days to explore. You can choose from several Disney resorts near Epcot for your next Florida vacation.
Disney's Beach Club Resort
Travelers who wish to experience a New England-style setting can make plans to stay at Disney's Beach Club Resort. The resort sits on the shores of the 25-acre Crescent Lake that offers guests an abundance of water activities, including a white sandy beach, boat rentals and fishing expeditions. Plan a day or two to enjoy Stormalong Bay, a three-acre aquatic water park found within the resort's property that features waterfalls, a sand-bottomed pool, lazy river, full-scale shipwreck and water slides.
Disney's Yacht Club Resort
Disney's Yacht Club Resort, the sister resort to Disney's Beach Club Resort, offers vacationers a more formal setting that resembles the majestic New England yacht clubs from years ago, but the resort shares the fun water activities located between the properties. Styled after the "shingle-style" hotels found in Nantucket and Martha's Vineyard, this five-story resort was designed by famed architect Robert A.M. Stern. This nautical-themed deluxe hotel features the Yachtsman Steakhouse, a Disney Signature Dining restaurant.
Disney's Boardwalk Inn
Disney's Boardwalk Inn provides guests a chance to step back in time to the 1940s and experience the carefree and stylish atmosphere of the famed Atlantic City. This waterfront resort sits on the shore of Crescent Lake and features a quarter-mile boardwalk filled with festival activities, including gift shops, eateries and midway games the whole family will enjoy. The resort offers standard or deluxe rooms as well as two-bedroom suites and cottages, which all include secluded balconies or enclosed patios.
Walt Disney World Swan and Dolphin
Two sister resorts, the Walt Disney World Swan and the Walt Disney World Dolphin, situated across from each other on the waterfront of Crescent Lake, offer guest deluxe accommodations away from the other Disney resorts also situated on the lake. Michael Graves, an award-wining architect, designed both resorts and each features a pair of massive statues of the resort's namesakes (swan and dolphin) on the rooftops to capture the spirit of the Italian Renaissance design. Guests can select from well-appointed rooms or suites at both properties.