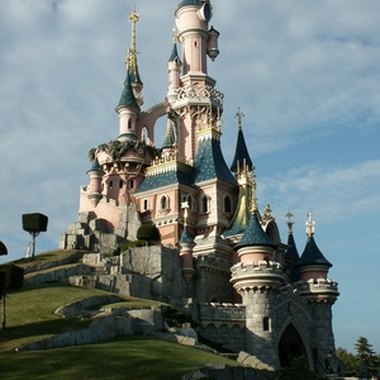 When Walt Disney created Disneyland, he envisaged "a happy place . . . where adults and children can experience together some of the wonders of life, of adventure, and feel better because of it." Disney resorts worldwide embrace this vision. Classic family theme parks and Disney Hotels inspired by the original models attract millions of visitors to "the happiest places on earth."
Disneyland Resort, California
Two theme parks create Disney magic in Anaheim, California, Disneyland's birthplace. Disneyland Park has eight themed lands, namely Main Street U.S.A., Adventureland, Critter Country, Fantasyland, Frontierland, New Orleans Square, Mickey's Toontown and Tomorrowland. Served by the monorail, the 988-room Disneyland Hotel comprises the Dreams, Wonder and Magic towers, with shops, restaurants, a pool and gardens. Enjoy a wake-up call from Mickey Mouse. Start your day with a hearty Coffee House breakfast. Join Chef Goofy and friends at Goofy's Kitchen, or opt for Steakhouse 55 elegant dining. "It's off to work we go" at the convention center, with 52 meeting rooms plus two ballrooms. Disney's California Adventure Park attractions include the Hollywood Pictures Backlot and Paradise Pier amusement park. Disney's Paradise Pier Hotel has a seashore theme, complete with rooftop pool and water slide. Disney's PCH Grill serves California cuisine, and there's a Character Breakfast buffet for the young and the young at heart. Fitness and business centers round out the hotel's facilities. Disney's Grand California Hotel & Spa, in American Craftsman style, includes private entry to the Adventure Park. Hotel guests enjoy pools with private cabanas, a fitness center and luxurious pampering at the spa. The Napa Rose and the Storyteller's Café are among the dining delights.
Disneyland Resort Paris
Disneyland Resort Paris' Disneyland Park has five themed lands: Adventureland, Discoveryland, Fantasyland, Frontierland, and Main Street U.S.A. The Disneyland Hotel has spacious rooms overlooking the resort. Other hotels offer all-American themes. Disney's Hotel New York has deluxe Art Deco rooms, and The Manhattan Restaurant adds to the Big Apple theme. Disney's Newport Bay Club epitomizes a 19th-century New England seaside. Savor Cape Cod Restaurant's Mediterranean fare and the Yacht Club's New England seafood. Disney's Hotel Cheyenne parallels the Frontierland Western theme, with amenities like the Chuck Wagon Café and Red Garter Saloon.
Tokyo Disney Resort
Japan's Tokyo Disney Resort features the Tokyo Disneyland theme park with seven themed lands: Adventureland, Critter Country, Fantasyland, Toontown, Tomorrowland, Westernland and the World Bazaar. Character rooms delight at the 705-room Tokyo Disneyland Hotel. The Walt Disney Suite is the hotel's premier accommodation, with sumptuous furnishings and many amenities. The Sherwood Garden Buffet Restaurant and the elegant Canna offer international cuisine. The Dreamers Lounge in the lobby serves premium tea and cocktails. Drop by Fantasia Court to see Mickey, the Sorceror's Apprentice and water-carrying brooms.
Hong Kong Disneyland
The Hong Kong Disneyland resort includes two Disney hotels and four themed lands: Adventureland, Fantasyland, Main Street U.S.A., and Tomorrowland. The Hong Kong Disneyland Hotel features Victorian-themed rooms, some with Jacuzzis and balconies. The Grand Salon serves high tea. The Crystal Lotus specializes in Chinese cuisine. Have fun character dining at the Enchanted Garden Restaurant, or try the Mickey Maze. Disney's Hollywood Hotel exudes glamor. Enjoy Chef Mickey's international cuisine and snack at Hollywood & Dine. Sunset Terrace offers al fresco dining.