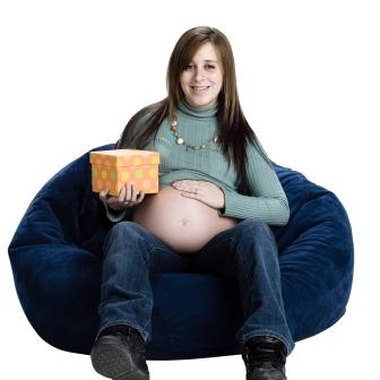 Crafting a baby shower around a Disney babies theme is an appropriate choice. Minnie, Mickey, Pluto, Daisy, Donald and Goofy in diapers and one-piece footie pajamas can be found or printed on invitations, decorations and other baby shower necessities. Center your games, food and decor options around the famous cartoon infants to align the celebration with the theme.
Invitations
Draw or print invitations starring Disney babies. For a baby girl shower, baby Minnie or Daisy are appropriate while a little boy's baby shower could be centered on baby Mickey, Donald or Goofy. The Disney Clips website provides various clip art options available for free download. Insert the images onto a piece of card stock with the shower party details including date, location and time to craft Disney babies invites.
Food and Snacks
Contact a bakery, whether in your grocery store or a private baker, to recreate Disney babies on the shower cake. Mix a baby Little Mermaid seafood salad, an infant Bug's Life garden salad, and a baby Beauty and the Beast Creme Brulee for other food options as suggested by Yeah Baby. Cover chocolate strawberries in the colors that align with the baby Disney character apparel using melted candy chips and even create a strawberry topiary with them. Press and glue a wooden dowel rod through a 6-inch foam ball and into a 3-inch foam ball to create the topiary base. Press and glue the other end of the rod into a floral foam block pushed into a decorative pot. Cover the foam balls with plastic wrap and press toothpicks through the plastic. Push a chocolate covered strawberry onto each toothpick.
Games
Integrate Disney babies into the baby shower games through a Disney baby Bingo, which includes images of the infants on a five-by-five grid. Give descriptive clues to lead players to place a Bingo chip on the specific image and five in a row wins Bingo. For example, you may instruct players to place a chip on the character that has a speech impediment and each guest marks baby Donald on their Bingo sheet. Another idea is to play a game of charades depicting each baby Disney character.
Decorations
Enlarge the drawings or downloads used for the invitation for wall decorations or adhere them to a cardboard stand for a centerpiece. Download free image enlarging software and place the printed paper sheets in order like a puzzle on a life-size cardboard cutout. Another idea for a centerpiece is to ask each table of guests to create a diaper cake by rolling individual diapers, securing them with clear rubber bands and layering them on end into a three-tiered cake shape. Secure each layer with large rubber bands covered with Disney baby-themed ribbon. Adorn each diaper cake with stuffed animal versions of the Disney babies.
Resources
Photo Credits
Photos.com/PhotoObjects.net/Getty Images