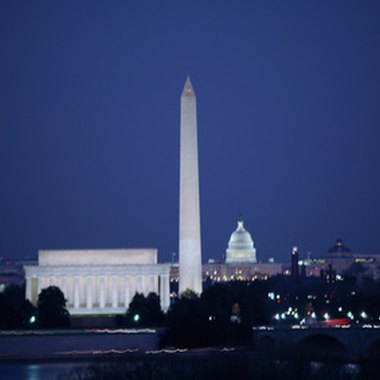 A tight budget needn't hamper your style on a trip to the nation's capital. Washington D.C. has a number of affordable boutiques, bed and breakfasts and large hotels within walking distance of some of the capitol's most popular tourist attractions. There are complimentary amenities aplenty, from free wine and cheese to a complimentary breakfast sourced from the local farmer's market.
The Normandy
Complimentary wine and cheese isn't something you'd expect from a budget hotel, but the Normandy isn't your typical budget hotel. This small, informal boutique is located on Embassy Row and within walking distance of plenty of bars, clubs, restaurants and galleries in the Dupont Circle area. Recently-renovated rooms sport chic furniture and modern art. But they are small; best to choose one overlooking leafy Wyoming Avenue. The Normandy is also close to Dupont Station, which connects the area with all the main, touristic spots in D.C.
Hotel Harrington
Washington D.C.'s oldest continuously-operating hotel is also a steal; beds start at around $100 a night, as of November 2010. Located in the heart of Washington D.C.'s busiest tourist district, Harrington is just steps from the White House, National Portrait Gallery, and the mall; not surprisingly, the hotel also offers guided tours. All rooms come with cable TV and HBO and deluxe suites are also available.The hotel also houses three family friendly restaurants.
Woodley Park Guest House
Located near the National Zoo, this charming and cozy B&B sports wicker furniture, a lazy veranda and original art. All rooms are decorated with vintage furniture, hardwood floors and offer high-speed Internet access. Complimentary breakfast includes a big bowl of fruit salad, breads from local farmer's markets, cereals, yogurts and hard-boiled eggs. If you're really on a tight budget, you can significantly reduce the price of your room by sharing a bathroom. In lieu of televisions, Woodley offers guests a well-curated selection of newspapers, books and magazines.
Red Roof Inn
The location and the price of the Red Roof Inn are by far its biggest selling points. Located within walking distance of the White House and Pennsylvania Avenue, Red Roof is where to stay if you want to be in the thick of it, and it's price is highly competitive with other budget options in the capital. Rooms come with free wireless Internet and all are pet-friendly. Red Roof also has a well-stocked fitness room on the top floor with a walk-in sauna.
Photo Credits
Washington, DC Skyline image by dwight9592 from Fotolia.com