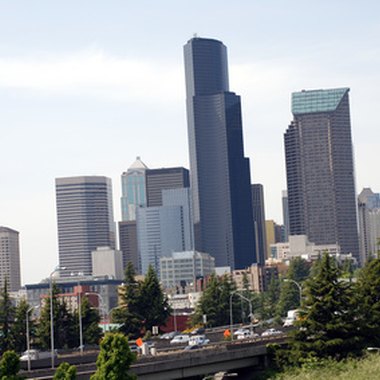 Visitors to Seattle, Washington, will feel comfortable touring the city in flannel shirts and tattered jeans, but the city's casual ambiance does not reflect its hotel rates. Prices, especially when combined with sales tax and parking fees, may be high, but if you know where to look, discount lodging is available. In fact, some of the cheapest Seattle hotels have the most character, and offer perks such as free Internet access, kitchenettes and shuttle services.
Queen Anne District
Queen Anne Hill is one of Seattle's most charming neighborhoods. Boutiques and restaurants populate the lower part of the hill. The upper hill, with its Victorian mansions and garden homes, is a country oasis in the midst of a city. Rents are steep in this prestigious area, which makes the low rates at the Inn at Queen Anne a pleasant surprise. Most downtown hotels charge over $150 each night, but as of November, 2010, rates at the Queen Anne Inn begin at $77 a night. Enter the hotel through an English courtyard garden, and find coffee and herbal teas brewing in the lobby. Check in, and climb the winding staircase to your room. The hotel was built before the advent of elevators, so pack lightly, or inform the management if you need a first-floor room. Internet access is free, and all rooms have small kitchenettes. The Metropolitan Market, a few blocks from the inn, serves sushi. In warmer weather, eat at one of the tables in the courtyard. Don't worry, they all have umbrellas. This is Seattle.
Belltown
If you're young, hip and trendy and live in Seattle, you probably hang out in Belltown. If you're a visitor who wants in on the action without laying out too much cash, you stay at the Ace Hotel. The hotel's innocuous location on the second floor of an early 20th century maritime lodging house, and its white-on-white decor and stainless fixtures, contribute to the Ace Hotel's minimalist appeal. The hotel is pet-friendly, but it also draws its fair share of party animals. Its paper-thin walls may give new meaning to the words "Sleepless in Seattle," but with rates as of November 2010 under $100 a night, breakfast and Internet access included, you can sleep when you get back home.
University District
Sending your kids to college is expensive enough without having to spend a fortune to visit them. Two University of Washington area hotels ease the pain. The College Inn, across the street from the university, was built for the 1909 Alaska-Yukon Exposition. Its Bavarian-style rooftop invokes images of European boarding houses. In fact, the College Inn follows a European-style hotel plan. There's a sink in each room, but baths are shared. Rates are per person, not per room, and include breakfast. The College Inn Pub, located in the hotel basement, is a local hangout, known for its half-price nachos on Monday night. As of November, 2010, room rates range between $55 and $90 per night, with a shared bath. You'll pay a bit more at the University Inn, located in the same area, but the rates are still affordable, and include waffle breakfasts, delivered to your room, shuttle services to local attractions, free Internet and pet-friendly accommodations. Average rate is $125 nightly.
Downtown Hotel
Seattle boasts an excellent public transportation system, but a downtown hotel keeps you closest to the action. The Sixth Avenue Inn sits within walking distance of the Seattle Space Needle, the Monorail, Pike Place Market, Pacific Place, and Westlake Center. Rooms have a simple decor, and some have microwaves and mini-refrigerators. The hotel, which caters to business travelers, has a 24-hour business center, and a fitness center. Its restaurant, the Sixth Avenue Bar and Grill, serves pizza, pasta, sandwiches and salads. Breakfast is not included in room rates, but the cost is still low, considering the hotel's convenient location. As of November, 2010, nightly rates averaged at $100.
Capitol Hill
Capitol Hill, with its historic mansions, museums and rumba steps embedded into the sidewalks is home to Seattle's most diverse population, and the Gaslight Inn fits right into the environment. Each room boasts a whimsical decor. Some have Navajo-print fabrics, others have the oak wainscoting that invokes images if a Victorian gentleman's club. The owners decorated the inn with objects from their travels. There's a backyard, and a heated pool. Breakfast is included. Rooms with private and shared baths are available. Rates start at $98 nightly as of November 2010.
Photo Credits
Downtown Seattle image by Leticia Wilson from Fotolia.com