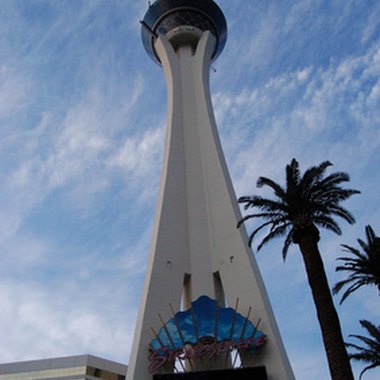 While costs associated with traveling to Las Vegas have increased over the years, you can still get a good deal on a room in "Sin City." Just don't expect the Bellagio or Wynn if your budget is lower. Many hotels across Las Vegas offer reasonable rates for travelers, including lodging near the heavily visited areas of the Strip and Fremont Street.
The Strip
This four-mile section of Las Vegas Boulevard is ground central for tourism in Las Vegas, as it contains most of the city's famous resorts and attractions. In general, the Strip skews older the farther north you travel, with most recent growth on the south end of the Strip. The older properties to the north, such as Riviera, Sahara and Stratosphere, usually offer much lower rates than the hotels to the south. A November 2010 search for rooms on these resorts' websites yielded many rooms under $30 a night.
Fremont Street
Las Vegas first developed here more than a century ago. The downtown area includes the city's second most famous street -- Fremont Street -- that contains about a dozen casino resorts along a four-block stretch. Hotels here offer more basic amenities than Strip hotels, but often have the lowest rates in Las Vegas. Try Four Queens, Fitzgeralds and Main Street Station for decent rooms and good rates on Fremont Street.
Specials
Get the best available rates by visiting the websites of Las Vegas properties at which you may consider a stay. Sign the guest book or register to receive emails to potentially receive special offers. Sahara ran a special in 2010 in which Facebook members who became a "fan" of the resort could receive special $1 room rates on certain days. If you will need to rent a car of buy a plane ticket for your Las Vegas vacation visit online travel booking websites to see if you can get a package discount.
Considerations
Do not be afraid to book your room early at any of these resorts. Generally, if you find a lower advertised rate at a later date for the nights you plan to stay the hotel will honor the discounted price. Realize that even discounted hotel rates can increase exponentially during certain events and holidays. A basic room at the Sahara during a November 2010 search was offered for $22, but the price increased to $190 on New Years Eve.
References
"Fodor's Las Vegas 2010"; Andrew Collins et al; 2009
"Frommer's Las Vegas 2009"; Mary Herczog; 2009
Photo Credits
stratosphere tower in las vegas image by Balogh Eniko from Fotolia.com