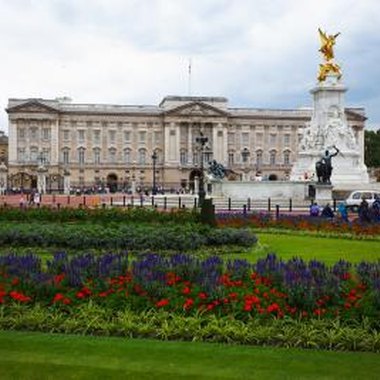 Victoria Station is a hub for both commuters and tourists. Trains come and go from throughout Southeast England. The station is the London terminus for trains from Gatwick Airport. Around the corner, Victoria Coach Station serves buses from all over the United Kingdom and Europe. Add to that the proximity of Buckingham Palace, Whitehall, Scotland Yard, Westminster Abbey, Westminster Cathedral and Parliament -- all within walking distance -- and you have a big demand for economical accommodations. Budget minded visitors head for Belgrave Road, where several large budget-brand hotel groups have taken over terraces of Victorian townhouses.
Holiday Inn Express London Victoria
This 52-room hotel occupies seven floors of a typical Victorian terraced house on Belgrave Road. Period features stop at the front door. Inside the lobby is even more basic than is typical of this group. A small lobby bar next to reception serves drinks. At the breakfast bar, guests can help themselves to a free continental breakfast of cereals and juice. Rooms are small but well kept and contemporary. Wireless Internet is available throughout the hotel but expensive in the rooms. In November 2010, the initial cost was £9.95 ($15.55), though guests who go online in the hotel business center can save a substantial amount. Guests over 62 benefit from a senior discount.
Comfort Inn Victoria
The Comfort Inn Victoria is another on this area's "budget row," Belgrave Road. They are not afraid to describe themselves as cheap and it is a case of you get what you pay for here. Rooms are basic and usually clean. Budget-minded visitors will find the location, with its excellent transport links, hard to top. The hotel offers online, advance booking discounts and Sunday special rates that are nearly half of the usual price.
Days Inn Westminster
A bit further along Belgrave Road, the Days Inn Westminster is useful for passing through or sleeping off a night on the town. Rooms are slightly more colorful than the run-of-the-mill budget accommodations around Victoria, with red and russet upholstered furniture and accent walls in blue or lilac. White-tiled bathrooms with black marble shelves are a smart touch and kept in good condition. The hotel has large family rooms and child-friendly breakfasts of familiar cereals and yogurts. The fruit salads come out of cans though and the bread and rolls out of packets. The hotel offers an online membership discount.
Victoria Inn
The 43-room Victoria Inn, another along the budget area of Belgrave Road, was freshly painted and decorated in the summer and fall of 2010. Rooms are simple but cheerful and the public rooms have more style than you might expect for an economy class hotel. Guestrooms are quite small but cleverly outfitted to make the most of what space there is. Bedside lamps are fitted to the headboard obviating the need for bedside tables; shelves and open clothes hanging fixtures are built in. In addition to an economical standard rate, the hotel offers a range of seasonal discounts.
Resources
Holiday Inn Express London-Victoria; 106-110 Belgrave Road; London SW1V 2BJ; 011-44-20-7630-8888
Comfort Inn London Victoria; 18-24 Belgrave Road, London SW1V 1QF; 011-44-20-7233-6636
Days Inn Westminster; 80-86 Belgrave Road; London SW1V 2BJ; 011-44-20-7828 8661
Photo Credits
Jupiterimages/Photos.com/Getty Images