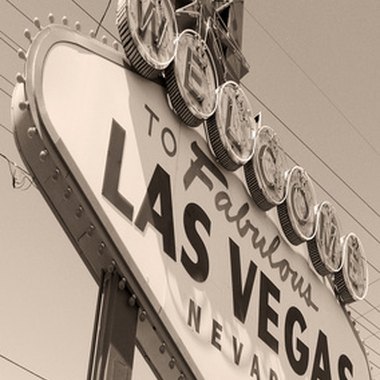 With the increasing costs of airfare, dining and attractions for a trip to Las Vegas, it doesn't hurt to look for savings in lodging costs. Fortunately for the budget-conscious travelers, plenty of "Sin City" hotels and resorts cater to those seeking a cheaper place to stay. You will find discounted accommodations in several areas of the city.
Locations
The two main tourists areas in Las Vegas include the 4-mile Las Vegas Boulevard, better known as "The Strip," and Fremont Street in the Downtown area. Most affordable hotel options on the Strip can be found in the northern section of the road in such places as Riviera, Sahara, Stratosphere and Circus Circus. Just about all of the hotels on Fremont Street offer reasonable rates. Top choices here include Golden Nugget, Main Street Station and El Cortez.
Rates
You can often score a room at one of these budget properties for less than half of what you would pay at a major Strip resort. To get the best deal, visit the websites of these properties and sign up to receive emails. They often send special offers such as discounted rooms or free resort credits for food or entertainment during a stay. Also visit online travel booking websites, which often offer special rates for some of these hotels.
Features
Lower your expectation for amenities when you stay at a discount property. The pool area at the Sahara won't compare to the one at Bellagio, for example, but these properties still offer the bare bones versions of the same amenities you would get at more expensive accommodation options in Las Vegas, and the casinos usually feature the same games. The Downtown casinos are known to offer better odds than their Strip counterparts.
Considerations
If you stay on Fremont Street, you will be separated from most of the main attractions in Las Vegas, which can be found on the Strip. (Even if you stay on the north end of the Strip, it's a long walk to the rest of the Strip.) Have a transportation plan in place for your stay. City buses run frequently between the Strip and Fremont Street, but it will take awhile to get from one end to another. Taxis are fast, but not cost-efficient. Car rentals are relatively affordable and you can park for free at any Las Vegas casino.
References
"Fodor's Las Vegas 2010"; Andrew Collins et al; 2009
"Frommer's Las Vegas 2009"; Mary Herczog; 2009