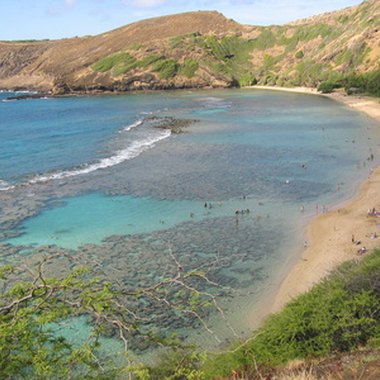 Honolulu, the busy heart of Oahu, is home to many luxurious resorts, giving travelers the impression that it is impossible to find discount accommodations there. But that is simply not true. Most of the hotels on Oahu are located in Waikiki and competition is fierce. With so many hotels trying to compete in busy Waikiki, a number of budget hotels offering basic accommodation at rates of less than $100 per night are not uncommon.
Waikiki Prince Hotel
With rooms as low as about $80 per night, the Waikiki Prince Hotel is an excellent choice for a cheap, no-frills hotel. This small hotel has basic room accommodations featuring air conditioning, en suite bathrooms and a balcony. Most rooms also have fully equipped kitchenettes, ideal for those not wanting to spend money eating out every night. The hotel has no in-room phones, and maid service is provided on a weekly basis. But beach accessories such as mats and towels are available at reception, and Waikiki Beach is just a block away.
Hale Koa
If you are active-duty or retired military, or in the reserves or National Guard, the Hale Koa offers the best bang for the buck in all of Waikiki. Rates at this resort are according to your pay grade, with rates around $90 per night for pay grades E1 through E5. In fact, the Hale Koa's rates are so notoriously low for Honolulu that the hotel is often booked six months in advance. Rooms feature such amenities as high-speed Internet access (for a fee), a refrigerator and air conditioning. The resort features six different dining options, three swimming pools and tennis courts. Attend a Hale Koa luau, which features traditional Hawaiian cuisine and entertainment.
Waikiki Gateway Hotel
The Waikiki Gateway Hotel is a boutique hotel with room rates around $70 a night. Room features include high-speed Internet access (for a fee) and in-room safes, and some rooms have lanais (balconies) with views of Waikiki. The hotel even has rooms with kitchenettes available, perfect for the budget-conscious traveler. Amenities include an outdoor swimming pool, laundry facilities and business center. The hotel is located on the edge of Waikiki, ideal for a quiet stay -- although the beach is just under a mile away from the hotel.
Royal Grove Hotel
The Royal Grove Hotel is a discount hotel with rooms as low as $50 a night. Located in Waikiki, the hotel is just a couple of blocks from Kuhio Beach, in the center of Waikiki. Although rooms are basic, all rooms feature a kitchenette as well as en suite bathrooms, and most rooms offer air conditioning. On site, you find an outdoor pool and a number of small dining options including a Me's BBQ serving Korean barbecue plate lunches, and a sushi bar.
References
"Oahu Revealed"; Andrew Doughty; 2009