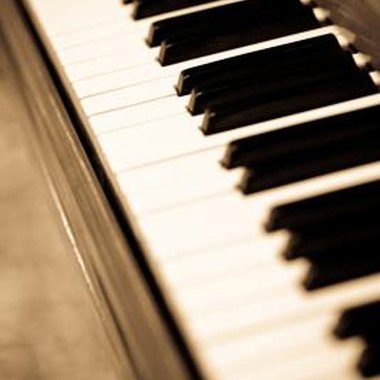 Roland digital pianos come with a variety of designs and features, but they all share one thing in common: They mimic the feel of an acoustic piano. Most Roland digital pianos have weighted keys, and some models even look like an upright acoustic piano. Whether you need to repair a broken key or just perform general maintenance, you must be able to dismantle your Roland piano correctly.
Items you will need
Phillips-head screwdriver
Step

1
Turn off the digital piano and unplug its main power cable from the electrical outlet. Relocate the digital piano to a safe work surface.
Step

2
Remove all Phillips screws from the bottom and side panels on the piano. Grasp the digital piano's top cover and lift it off the piano's base. This reveals the weighted keys and the piano's internal electronics.
Step

3
Grasp the back end of each key, and tilt it upward until the key disengages from each individual key slot inside the piano. Repeat to remove all 88 keys from the piano.
Tips & Warnings
On some older models, the individual keys may be held in place by a single, Phillips-head screw.

Do not attempt to remove any circuit boards or wiring from inside the piano. This can be potentially hazardous and may void your piano's warranty.
Photo Credits
Jupiterimages/Photos.com/Getty Images