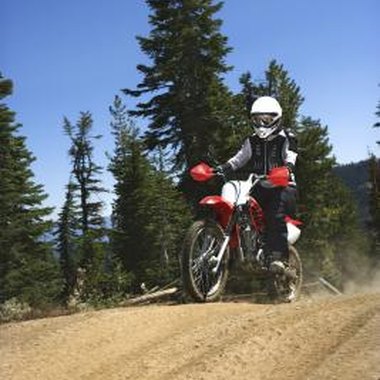 Dirt bike and ATV fans have many trail and course choices in Alaska, many of which also offer snow machine use during winter months. There are both public and private recreation areas located near the large towns of Anchorage and Fairbanks, along with parks and raceways in smaller communities such as Kenai and Palmer.
Anchorage
The Jodphur motorcross track is located outside Anchorage and allows both practice and racing events. Riding hours are from 10 a.m. to 8:30 p.m. on Wednesday through Sunday, and the park is free to use. The park is maintained by the Anchorage Racing Lions, a non-profit volunteer run motocross club that hosts the Anchorage City Motocross Series. The Bald Mountain Trail is also located in Anchorage and is a 22-mile route that ranges in elevation from 700 to 3,400 feet above sea level. The Bird Creek Valley trail is a 6-mile trail that is located in Chugach State Park, which is the third largest state park in the United States.
Fairbanks
Fairbanks is located in central Alaska and is the second biggest town in the state, and is the location of the Polar Roller Raceway. The Colorado Creek trail is also open to dirt bikes during summer months and features elevation changes from 600 to 1,600 feet.
Kenai
Kenai hosts the Twin Cities Raceway, which is maintained by the Kenai Peninsula Racing Lions. In addition to allowing public access for riding, it hosts several city and local motocross racing events during the summer months.
Palmer
Palmer is located about 40 miles north of Anchorage, and is the location of the Rival Park Motorcross Park. The park does not have a race schedule but allows practice riding on Tuesdays and Thursdays from 6:30 p.m. to 10 p.m. for $10 a rider.
Photo Credits
Jupiterimages/Comstock/Getty Images