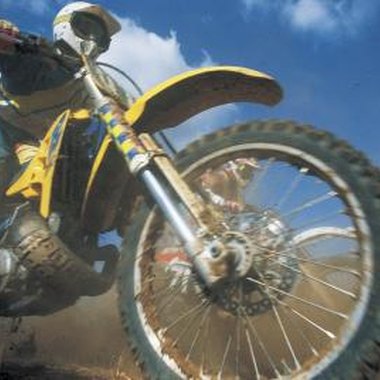 New Mexico has landscapes ranging from the arid sand dunes of the Chihuahuan Desert to the forested slopes of the Sandia Mountains. This provides dirt bikers with the chance to enjoy the exhilaration of speed on a variety of terrain, with tracks, trails and parks throughout New Mexico catering to this activity.
Legal Requirements
New Mexico residents looking to ride a dirt bike on public land must register their vehicles with the state Motor Vehicle Division (mvd.newmexico.gov). This organization has field offices throughout the state, where owners can first register their vehicle for one or two years. Renewal can take place at a field office or online. Non-residents must obtain a permit before riding on public land. These are available from the New Mexico Department of Game and Fish (wildlife.state.nm.us). Private facilities may have their own requirements.
U.S Bureau of Land Management Facilities
The U.S. Bureau of Land Management (blm.gov) administers off-road facilities in New Mexico. The Mescalero Sands North Dune OHV Area covers an area of 610 acres, around 50 miles southeast of Roswell. The constant movement of the sand creates dunes up to 90 feet high, with dirt bike fans welcome to spend a day riding on these. The Robledo Mountains OHV Trail system has a network of extreme off-road trails. These provide a challenging experience for dirt bikers. The trail network is located 4 miles northwest of Las Cruces.
U.S. Forest Service Trails
The U.S. Forest Service (fs.usda.gov) manages the 1.6 million-acre Cibola National Forest and National Grassland. The Sandia Mountains lie within the forest, on the east side of Albuquerque. Trails in this mountain area are open to dirt bike riders. The routes are typically 1-3 miles long, and include the Cedro Ridge two-track trail, the Chamisoso Road Trail and the Meadow Ridge Trail.
Montessa Park
The City of Albuquerque Open Space Division (cabq.gov) manages Montessa Park in the South Valley district of Albuquerque. The park has an area designated for off-road vehicles. This covers around 250 acres of land, and provides Albuquerque dirt bike riders, and others, with a convenient location to practice their skills within the city limits.
Outdoor Motocross Track
Dirt bikers that prefer track riding can use the facilities at Heaven Motorsports Park (nnsra.org), located around one mile east of Raton. The park has a 15-foot wide dirt track featuring eight tabletop jumps, and an 85-foot back jump, which launches riders up to 25 feet into the air. Options for using the facilities range from one day to full-year packages. These are available from Hester's Motorsports (hester-motorsports.com) in Raton.
Resources
Photo Credits
Digital Vision./Photodisc/Getty Images