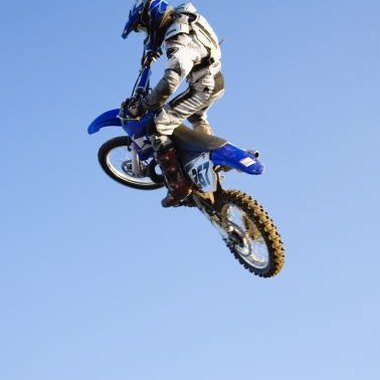 Hitting the trails or the track on a powerful dirt bike is a great way to spend time with friends, though it's more of an adrenaline rush than a relaxing activity. When Texans claim that they "go big," their dirt bike enthusiasts are no different. As you fly over jumps and through hairpin turns, you'll feel the rush that Houston's dirt bike enthusiasts all know well.
The Trails
Sam Houston National Park Forest offers 85 miles OHV (off-highway vehicle trails) that can be used by motorcycles, dirt bikes and ATVs. Fees generally run at $5 per day, or $25 per year, which allows riders to use all of the allocated multi-use trails in the park. There is also Creekside Edge Off-Road Park, which is much more exclusively geared toward dirt bikes and other OHVs. The park, located in Splendora, Texas, is made up of plenty of x-country terrain and on-site camping so that visitors can make a whole weekend of it.
Eagle Rider Rentals
For those that need to rent a ride, Eagle Rider has a fleet of only the latest models of bikes with all the bells and whistles. Each rental includes unlimited usage of the bike during the rental, a half-helmet and goggles. Other accessories, such as chaps, jackets and gloves are also available at most Eagle Rider outlets. To be able to rent a dirt bike in Houston, riders must be 21 and in possession of a valid motorcycle license. International riders need to have a valid license that allows them to ride the very same type of bike in the country their license was issued in.
Rio Bravo Motocross
Rio Bravo is one of America's most historic motocross tracks. Thanks to Houston's unbeatable weather, the track is open dawn to dusk, all year round. The track is members-only, but daily passes are available to those who aren't year-round members. Rio Bravo has a full schedule of competitive events for spectators to watch or even take part in.
Dirt Bike Sales
Houston has plenty of sources when you're ready to buy new and used dirt bike equipment and accessories. Stubbs sells new and pre-owned Suzuki and Honda vehicles dirt bikes, as well as a large selection of parts, accessories, clothing and helmets. For used items, you can turn to Houston Motorcycle Exchange, which carries a variety of bike models as well as the parts and services to go along with them. For a unique custom-made ride, Jackel Motorsports is Houston's source for locally made bikes. They pride their products on being innovative and affordable.
Photo Credits
Jupiterimages/Creatas/Getty Images