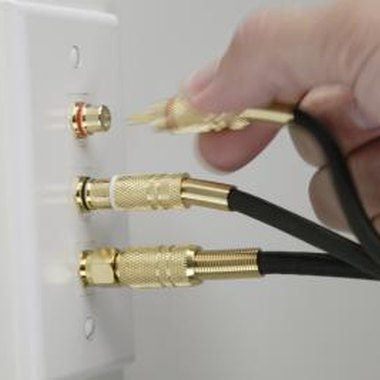 With so many options available for digital television, it can be difficult to figure out which service and provider can offer the best reception, picture quality and the most options that fit your budget and lifestyle. Although the options in Maryland may seem endless, there are a few digital cable providers that have dominated the market on great cable service.
Geography
Verizon FiOS is available many cities and counties of Maryland including Anne Arundel, Baltimore and Prince George's counties, as well as Annapolis, LaPlata and Rockville. RCN's network covers the Washington, D.C., metropolitan area, including service to Gaithersburg, Silver Spring, Bethesda, Chevy Chase and Takoma Park. Comcast offers Xfinity service in Washington, D.C., and 39 states, including a plethora of cities and counties in Maryland. DirecTV provides digital cable service to millions of people across the United States, including customers in Maryland, New York, California and Missouri.
Comcast & DirecTV
Comcast Xfinity offers more than 200 digital channels and hundreds of free on demand content that is available online and on TV. With dozens of high-definition channels, on-screen programming guides and individualized subscription on-demand channels that feature thousands of hours of sports, children's programming and other channels, Xfinity offers customers the chance to choose what you pay for. DirecTV offers more than 200 channels of satellite television that include a plethora of on-demand content, regional sports networks, and exclusive channels only available to DirecTV subscribers. DirecTV also boasts 100 percent digital picture and sound and a variety of additional packages that include sports, movies and international channels.
Verizon & RCN
Known as America's largest 100 percent fiber-optic network, Verizon FiOS is a bundled package that includes phone, Internet and cable service. FiOS cable features more than 535 digital and 130 high-definition channels, thousands of on demand content, as well as numerous premium movie and commercial-free music channels. FiOS customers also have access to Flex View, which allows use of social networking sites and FiOS on your PC, TV and on your smartphone. In addition to offering high-speed internet and phone service, RCN features 100 percent digital cable television with more than 300 channels in the premiere digital cable package, as well as more than 70 high-definition channels included free in every plan. RCN customers also have access to on demand content, a DVR converter box and a variety of subscription extras that include international channels, sports packages and premium movie channels.
Cost
RCN offers discounts for customers who buy bundles that include cable, phone and Internet, but also has two cable packages that require no contracts and guarantee that the price paid in the first month will be the same for three years of consecutive service. Verizon has three no-term contract plans that offer hundreds of channels, but also gives customers the option to bundle internet, cable and phone service for additional savings. Verizon users pay a set monthly cost for one year of service. Comcast Xfinity features four plans that range in price to fit every budget. All Xfinity users, who choose to bundle or buy individual services, are guaranteed a fixed monthly cost for six months of service. DirecTV features a number of pre-packaged plans that include everything from affordable basic cable service with more than 120 channels to more costly deluxe packages that offer more than 250 digital channels. DirecTV also allows customers who bundle services to customize their plans by adding discounted subscriptions for maximum savings.
Resources
Photo Credits
Comstock Images/Comstock/Getty Images