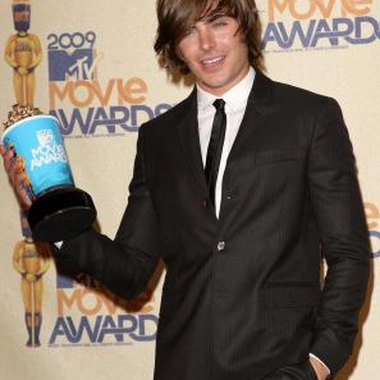 Zac Efron's face seems to be everywhere you turn. Since "High School Musical" first aired on the Disney Channel in 2006, Efron's fame has skyrocketed. However, Efron did not just show up out of the blue. His big break came after several years of hard work, dedication and failed auditions.
On Stage
Encouraged by his father, 11-year-old Zac Efron tried out for his first role at the Pacific Conservatory of the Performing Arts. He scored the part in "Gypsy" and fell in love with acting immediately. In 2006, he told "The San Luis Obispo Tribune," his hometown newspaper, "From day one, I got addicted to being on stage and getting the applause and laughter." Efron went on to star in local productions of "Peter Pan," "Little Shop of Horrors" and "The Music Man."
Television
Zac Efron's mom started driving him to television auditions in 2002. Starla Efron would take her son to L.A. three days a week. Efron ended up with guest spots on "Firefly," "ER" and "The Guardian." He has said, though, that for every TV or movie gig he achieved, he auditioned for 30 or 40. In June of 2004, Efron began a recurring role on "Summerland." Just a couple of months later, he played an autistic boy in the TV movie "Miracle Run," for which he was nominated for a Young Artist Award.
The Break-Out Role
In 2006, Zac Efron starred as Troy Bolton in the Disney Channel movie "High School Musical." According to the website Zac-Efron.com, Efron has said that he originally made the movie with low expectations. Contrary to his initial thoughts, the movie skyrocketed and became the Disney Channel's most successful original movie, making Zac Efron a household name. Efron went on to win a Teen Choice Award for his role as Troy Bolton.
After HSM
In addition to the two "High School Musical" sequels, Zac Efron has shown his versatility in several other films. His first starring role in a big screen movie was in the remake of John Waters "Hairspray," directed by Adam Shankman. He has also starred in "17 Again" and "Charlie St. Cloud."
Photo Credits
Jason Merritt/Getty Images Entertainment/Getty Images