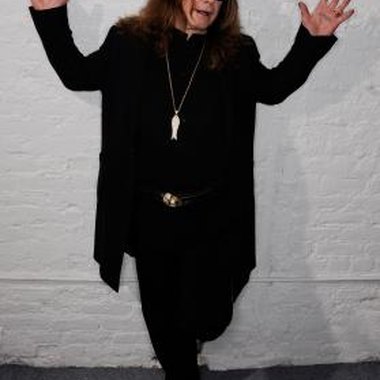 John Michael Osbourne, better known as Ozzy Osbourne, was born Dec. 3, 1948, in Birmingham, England. Ozzy experienced a fairly typical working-class upbringing, but dropped at of school at a young age. Subsequent criminal activity found him in jail and when released, he was courted to join a band as its new lead singer. The course was set for Ozzy Osbourne to become famous, marry twice and become the father to five children.
Black Sabbath
An early interest in his singing voice started Ozzy Osbourne on his road to stardom. Pursued at a young age by a mainstream rock band named Earth, Ozzy began his career in music. While Earth garnered limited regard, when the group switched to a heavy metal genre, its popularity skyrocketed, likely due in part to their charismatic front man. The band released its first album in 1970. Ozzy left the band in 1978 to pursue a solo career.
Bat Incident
While being the lead singer of a major rock band, and subsequently having success as solo artist, will make you famous, a spur-of-the-moment decision in 1982 likely made Ozzy Osbourne a household name. Deeming himself the Prince of Darkness, Ozzy showed his interest in the macabre by tossing animal intestines into the audience during shows. As revenge, one evening a fan tossed a live bat on stage. Ozzy mistook the bat for a toy, grabbed it and bit the head off. Regardless of the intent, this stomach-turning action is forever linked to Ozzy Osbourne's legacy.
"The Osbournes" Reality Show
In 2002, MTV launched a reality series called "The Osbournes" that brought Ozzy Osbourne, and most of his immediate family, further into the spotlight. The show, featuring scenes from their everyday life, showcased Ozzy, his wife Sharon and two of their children together, Jack and Kelly. Ozzy and Sharon's daughter, Aimee, and Ozzy's two children from a previous marriage were not regulars on the show. "The Osbournes" was a popular series produced by the MTV network and brought Ozzy's celebrity into a new decade, and gave him a younger set of fans.
His Unique Communication
Ozzy Osbourne is not only famous for his singing, music, family and interesting stage antics, he also has an interesting pattern of speech that draws attention. Rumors have circulated as to why Ozzy's speech is slurred, from the result of heavy illegal drug use to the manifestations of Parkinson's Disease. Ozzy and his family, however, maintain that these anomalies people witness are a result of side effects from drugs used to treat legitimate medical conditions Ozzy faces.
References
"The Osbournes"; MTV Productions; 2002-2005
Photo Credits
Larry Busacca/Getty Images Entertainment/Getty Images