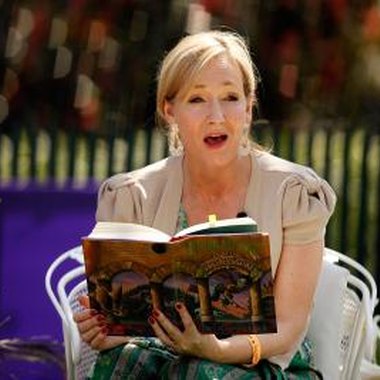 J.K. Rowling's "Harry Potter" novels have been wildly successful. Since the initial 1997 publication of "Harry Potter and the Philosopher's Stone," which was re-titled "Harry Potter and the Sorcerer's Stone" for American release, Rowling's books have sold more than 450 million copies worldwide. The Potter novels have also been translated into 67 languages, including Latin, Mongolian and Welsh. Rowling's success has made her wealthy: London's Sunday Times estimates her worth at £560 million, making her Britain's twelfth richest woman.
Early Life
J.K. Rowling, whose birth name is Joanne Rowling, began writing fantasy stories when she was a child. When she was five or six years, she wrote and assembled a book called "Rabbit," which told the story of a talking bunny who becomes sick with the measles and receives visits from various friends, including a giant bee. As a teenager, Rowling became interested in radical politics after reading Jessica Mitford's autobiography "Hons and Rebels," which her great aunt had given her as a gift. She later earned a degree in French and Classics from the University of Exeter and took a job working for Amnesty International in London.
The Idea
Rowling claims that the idea for the first Harry Potter novel formed while riding a train from Manchester to London in 1990. The character of Harry Potter occurred to her first, and from there she began to think about the wizardry school he might attend and who his friends, teachers and enemies would be. As soon as she departed the train and returned home, she began to write the first draft of "Harry Potter and the Philosopher's Stone."
Hard Luck
In the middle of writing "Harry Potter and the Philosopher's Stone," however, Rowling's mother died. Rowling says that when her mother died, she had not told her about her book yet. She also claims that her mother's death made her foreground the loss of Harry's parents in her first novel. Soon afterward, she moved to Portugal to teach English. While there, she married television journalist Jorge Arantes, with whom she had a daughter, Jessica. She and Arantes separated not long after Jessica's birth, and Rowling and her daughter moved to Edinburgh, Scotland, where she lived near her sister. It was in Edinburgh, receiving state living assistance and writing in cafes, that Rowling completed the first "Harry Potter" novel.
Success
After finishing the first book, Rowling brought her manuscript to Christopher Little Literary Agents, who eventually agreed to represent her. Twelve publishing houses rejected the manuscript before Bloomsbury, at that time a relatively small London publishing house, gave her a small advance and agreed to take the novel. Rowling also received a grant from the Scottish Arts Council, which allowed her to continue writing. A bidding war eventually ensued for the American rights to the novel, which Scholastic won for $105,000. This book proceeded to win a number of British and American literary awards, and it has since sold over 120 million copies worldwide.
References
"Female Force: J.K. Rowling"; Adam Gragg and Matt Flyer; 2010
"How Harry Cast His Spell: The Meaning Behind the Mania for J. K. Rowling's Bestselling Books"; John Granger 2008
Photo Credits
Chip Somodevilla/Getty Images News/Getty Images