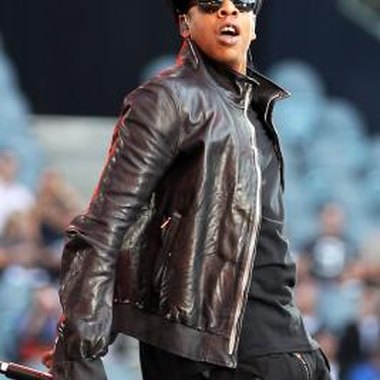 Jay-Z is the stage name of Shawn Carter. Jay-Z is a rapper and has a range of business interests that include a record company, Roc-A-Fella Records, and a clothing line, Rocawear. The Roc name originates from the Rockefeller family who were once one of the richest in the whole of the United States. John Rockefeller was an important mover and shaker in New York, which Jay-Z found inspirational.
Jay-Z the Trendsetter
In the early and mid-1990s, Jay-Z had many big hits and mentioned Iceberg in one of his songs. He noticed a lot of his fans wearing Iceberg jeans to his concerts, and realized he had the power to set trends. Jay-Z spoke with Damon Dash, one of the co-founders of Roc-A-Fella records about what he thought was a business opportunity. They found out that the clothing line Iceberg had experienced a significant boost in sales because of Jay-Z's "shout-out" and decided they would like to partner with Iceberg to endorse a line of clothing.
Rejection by Iceberg
In 1997, Jay-Z and Dash arranged a meeting with Iceberg senior management and pitched the idea to them of a rapper-endorsed clothing line that would benefit them both. But Iceberg executives turned them down, so Jay-Z and Dash decided to create their own brand, called Rocawear. They bought three sewing machines and set up in the Roc-A-Fella offices. They soon realized they didn't know how to sew and none of their friends did, either.
Bringing in Expertise
Russell Simmons, founder of Def Jam and Phat Fashions, advised Jay-Z and Dash to get a silent partner with experience in manufacturing clothing. He introduced them to Russian investors and apparel manufacturers Alex Bize and Norton Cher, and Rocawear was born. Bize and Cher are still silent partners in Rocawear today.
Growth of Rocawear
Rocawear originally began as a range of men's urban sportswear but now has women's and children's lines, too. Annual sales are over $700 million a year. Rocawear has offices in the United States, Canada, Russia, South Korea, Japan, the United Kingdom, Europe and the Middle East. In 2005, Dash sold his share to the other three partners.
Photo Credits
Mark Metcalfe/Getty Images Entertainment/Getty Images