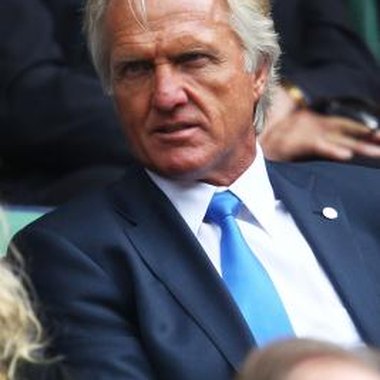 World Golf Hall of Famer Greg Norman has earned 91 career victories -- 20 of those occurring on the PGA Tour -- in a career that has spanned more than three decades. The Australian began to caddy for his mother as a teenager. Soon, he began playing on his own, launching his professional career in the mid-1970s. During his professional play, he acquired the nickname "The Shark."
Childhood
Greg Norman was raised with one sister in Australia. He loved swimming, fishing and contact sports. On a fateful day, he asked his mother if he could caddy for her during one of her outings. He became interested in the game, asking his mother if he could practice with her clubs. She obliged, setting her son on a winning course.
Career
Norman worked in a golf shop during his teens while playing in amateur golf tournaments across Australia and taking any advice the pros would lend. By 1976, Norman's determination paid off. He launched his pro career that year and soon would become the top golfer in the world. Among his tournament titles are two British Open championships -- one in 1986; the other in 1993. He also became the first player on the PGA Tour to amass $10 million in career earnings.
In the Media
Norman showed the persistence and determination of a great white shark. When he was playing in the 1981 Master's Tournament, a reporter remarked, "Who is that shark on the green?" The remark was picked up and printed in newspapers, labeling Norman as "The Shark." The nickname stuck and Norman embraced it as a compliment.
Other Accomplishments
Norman eventually bought a trademark for a great white shark logo, which now serves as the logo for Great White Shark Enterprises, Norman's business entity. Among the companies under the Great White Shark Enterprises banner are Greg Norman Golf Course Design, Greg Norman Australian Grille and Greg Norman Wine Estates.
Photo Credits
Julian Finney/Getty Images Sport/Getty Images