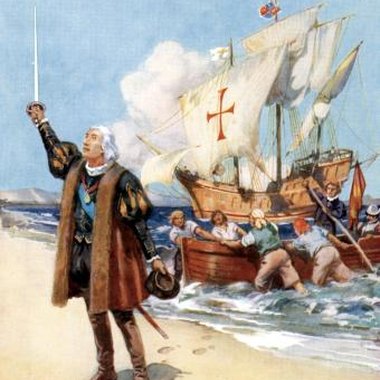 Christopher Columbus is best known for his discovery of the Americas in 1492. He was a man who was born into a world that was eager for exploration. In his early years, he followed his father's trade. However, the sea always seemed to be calling to him.
Early Years
In Christopher Columbus's early years, he attended a school in Italy for the craft guild. These schools were intended to teach the sons of craftsmen about the trades, and a little reading and writing for good measure. Columbus's father was in the wool business. After completing school, Columbus worked with his father in processing and selling wool. It is also thought that he worked in a bookstore. Even at a young age, though, Columbus, who lived in a port town, found the sea appealing.
Obsession with the Sea
At the age of 14, Columbus left his work on land to work on a ship. While working on various ships traveling among the European nations and Africa, Columbus served in many capacities, including messenger and sailor. In 1476, Columbus sailed on a ship to England, taking him out onto the Atlantic Ocean for the first time. During this excursion, French privateers attacked his ship off the coast of Portugal, and Columbus survived by clinging to wreckage and swimming six miles to shore.
Family Life
Around 1478-1479, Columbus met and married a Portuguese woman by the name of Felipa. Her family was of noble blood, but was poor. Her father had been governor of Porto Santo, but had died before Columbus met Felipa. About a year after the marriage, Felipa gave birth to a son and died shortly after. Around 1488, Columbus became a father to another son. This son was born out of wedlock to Beatriz Enriquez de Harana.
Early Voyages
After the birth of his first son, Columbus set out on a voyage to Ghana and the Canary Islands. Here he took note of the strong currents flowing away from the Canary Islands. He later used these currents on his journey to the Americas. Upon his return, he found documents among his wife's family's belongings that contained maps, charts and other information important to his voyage. He continued his trips on the sea, absorbing information about the Atlantic Ocean. When he had formulated a plan and calculated distances, he was ready to present his plan for crossing the Atlantic Ocean to reach the East Indies.
Presenting the Plan
Columbus began by presenting his plan to the Portuguese royalty. They were in favor of the idea, but their Council of Geographical Affairs felt the trip was too costly and that the calculations were incorrect. Columbus then moved on to Spain. In Spain, he found a monastery that was willing to keep his son for him. There, a monk by the name of Friar Antonio Marchena helped him with his geography and supported his idea. The monastery also led him to connections that would grant him access to the king and queen of Spain. In 1487, Columbus first pitched his idea to Spain. It was rejected several times before he was granted permission in 1492.
Photo Credits
Photos.com/Photos.com/Getty Images