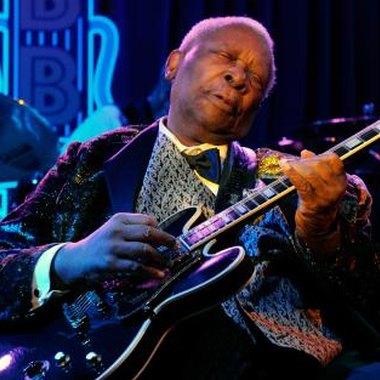 Riley B. King was born on a Mississippi cotton plantation in 1925. He wanted a good name for the radio, so he became known as B.B. (shortened from Beale Street Blues Boy) in Memphis in the 1940s. Since then, B.B. King has earned his place as one of the world's most famous blues artists. He has performed with his guitar, Lucille, well into his 80s. King was inducted into the Rock and Roll Hall of Fame in 1987.
Origins of the Name Lucille
King's tradition of naming his guitars "Lucille" dates back to 1949, when he was playing in a small dance hall in Twist, Arkansas. It was winter, and the only source of heat was a large container of kerosene, which was lit and placed in the middle of the dance floor. Two men got into a fight near the container. They knocked it over, and fire spread across the floor. King escaped from the building, but he ran back in when he realized that he left his guitar inside, despite warnings from the fire department. Later, King learned that two men died in the fire and that the men who were fighting were arguing over a woman named Lucille. From then on, King named his guitars Lucille as a reminder not to do a "silly thing" like that again (as he phrased it to author William Ferris in "Give My Poor Heart Ease").
The Guitar
King has had several "Lucilles," but since the 1960s, he has primarily used the electric semi-hollowbody Gibson ES-355. In 1980, the Gibson Guitar Corporation began custom-building King's guitars, and a version of his guitar is available to the general public as part of the Gibson Artist Collection. King favors a glossy black finish with gold hardware, although the ES-355 is also available with a cherry finish. One modification on King's custom-built Gibson is the lack of soundholes. Before his guitars were custom-made, King stuffed rags into the soundholes to prevent unwanted feedback. Another important modification is the name Lucille, which is written in white script on the guitar head.
King's Sound
King transformed the sound of blues guitar from one that was primarily acoustic to one that encompasses trilling vibrato (similar to that of the slide guitar) and string bends that make it seem as if Lucille is singing along with him. The influence of early bluesmen like T-Bone Walker is evident, but he has developed his own style that also incorporates elements of jazz and big band music, making horns and strings important aspects of King's unique sound.
Classic King Recordings
In the 1950s, King hit the R&B; charts with singles like "You Upset Me Baby" and "Every Day I Have the Blues." He released "Live at the Regal" in 1965, which Rolling Stone says is "one of the hottest blues-guitar albums ever recorded." King cracked the Top 20 on the pop charts in 1970 with the classic "The Thrill is Gone," and crossed over to rock in 1988 when he collaborated with U2 on "When Love Comes to Town." In 2000, King joined Eric Clapton on the Grammy-winning "Riding with the King," which included a reworked version of King's first hit from 1951, "Three O'clock Blues."
Photo Credits
Ethan Miller/Getty Images Entertainment/Getty Images