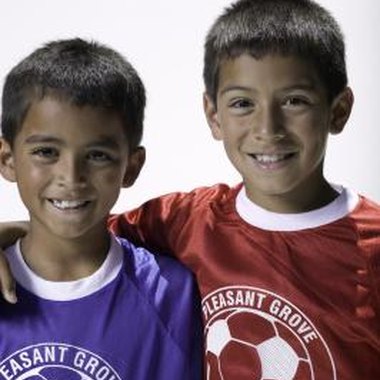 Played in over 200 countries, soccer is the most popular sport in the world. If association rules or coaches' guidelines permit altering your uniform, there are many ways to make a soccer jersey stick out in the crowd. Younger players can have their parents help, but much of the work can be done themselves.
Step

1
Fill a bowl with food coloring for each of your team's colors. Twist the shirt in random areas and wrap a rubber band around each area. Dip the tied sections into the dishes to make a tie-dyed jersey.
Step

2
Visit a hobby or department store and purchase iron-on letters to spell your first or last name. Follow the directions to iron the letters on the upper back of your jersey. For extra fun, spell out your nickname instead.
Step

3
Transfer a photograph to an iron-on decal at a local photo developer. Use a picture of your team, yourself or someone you want to memorialize.
Step

4
Purchase transfer decals pertaining to the name of your team. If you play for the Rockets, for example, get decals of different kinds of rocket designs.
Step

5
Design a European-style jersey with some simple reflective adhesive tape, like that used by joggers and cyclists. Try different designs, such as down one or both sleeves, across the chest or running down from both shoulder blades on your back.
Step

6
Salute your favorite soccer team by ironing on an official decal of the squad. Or, if you are the artistic type, draw the team's name or logo on your shirt with permanent felt-tip marker or paint.
Photo Credits
Photodisc/Photodisc/Getty Images