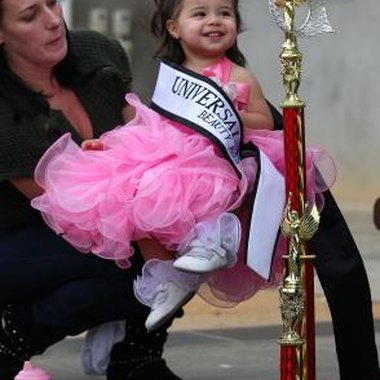 Children's beauty pageants have a dress code that younger female contestants must adhere to. For glitz pageants, contestants must wear a babydoll, or cupcake, dress. This consists of a fitted bodice with a fluffy skirt section made up of several layers of organza that is several inches above the knee. They are heavily decorated with jewels, feathers, lace and glitter. Designing a babydoll shell is the beginning step for a babydoll dress and is what all the embellishments will be attached to for the final result.
Items you will need
Sewing measuring tape

Pencil

Notepad
Step

1
Measure your child's chest circumference, center back length, back shoulder width, neck circumference, waist, side seam length and knee length using the sewing measuring tape. Measure her shoulder-to-wrist length if the shell will have sleeves, and measure the groin length if the shell will have a leotard bottom. Write these measurements down in the notepad because these will determine the size of the dress your child will need, especially if you are having it custom made.
Step

2
Decide on a color for the dress. Babydoll shells are traditionally monochromatic because the embellishments, such as rhinestones, lace and sequins, added later will give the dress its glitz and uniqueness. Babydoll dresses are characteristically made in playful colors, such as bright pink, orange and blue, and can be customized according to pageant themes. The fabric used for the bodice must match the organza used for the fluffy skirt portion as closely as possible.
Step

3
Draw a picture of the basic design of the babydoll shell you want. The traditional babydoll dress has a tight-fitting bodice that laces up in the back and is either sleeveless or has short sleeves. The skirt portion meets the bodice at the waist and is very short with multiple layers that fluff it out, similar to a ballerina's tutu. This gives the dress its "cupcake" shape, according to Lannah Designs. The bodice and skirt can either be attached together or worn as two separate pieces. If they are worn as two pieces, the bodice needs to have petals that extend about three inches from the bottom to overlap the top of the skirt.
Step

4
Decide if you will be making the shell yourself or hiring a seamstress to make it for you. Online searches can turn up different patterns that match the design you have drawn or seamstresses might already have designs on hand. Pattern companies such as McCall's, Simplicity and SewingPatterns.com offer many choices.
Step

5
Purchase fabrics for the babydoll shell once you have decided on a pattern. The bodice is generally made from synthetic fabrics such as polyester and chiffon. The skirt portion is always made from organza. Buying fabric in a store ensures that the fabric for the bodice and the skirt match; buying fabric online presents a risk of the fabrics not matching due to computer screen resolution variances when the fabric swatches are viewed online. Buy matching thread to prevent seams and stitch lines from being too noticeable.
Tips & Warnings
If you find a pattern you like that is designed for an adult, it can be converted and re-sized to fit a child. If this is beyond your own sewing capabilities, consult an experienced dressmaker.

Custom-made pageant dresses can be costly, so if you are uncertain of your sewing abilities, consult a professional seamstress or dressmaker to avoid expensive errors.
Photo Credits
Scott Barbour/Getty Images Entertainment/Getty Images