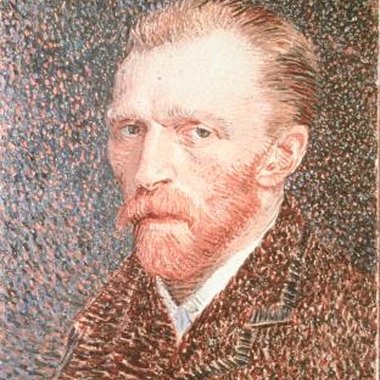 Vincent van Gogh was a famous painter born in the Netherlands, who died by suicide in 1890 at the age of 37. During his lifetime, Van Gogh created more than 900 paintings but only sold one. While Van Gogh lived a troubled life and did not have financial success, his work is now widely known and appreciated by the art community.
"Starry Night"
"Starry Night" by Vincent van Gogh is among the most recognizable paintings In history and is still in high demand for replications and prints. Features of the painting include swirling clouds, a crescent moon, bright stars and a small town under the hills. A tree is in the foreground and is much larger than the other objects in the painting, as it is meant to demonstrate perspective. Other details in the painting include a church with a tall steeple and lit windows in the village's houses.
Sunflowers Series
After leaving Holland for France, Van Gogh began painting sunflowers. His paintings of sunflowers were innovative at the time, because they made use of new colors such as chrome yellow, which helped make the work appear more vibrant and powerful. The paintings depict sunflowers in vases, as well as sunflower clippings alone. The first paintings of the sunflowers collection were created to decorate Van Gogh's friend's bedroom.
"Irises"
Van Gogh painted "Irises" in 1889, while he was staying in a French asylum, after numerous cases of hospitalization and self-mutilation. Van Gogh found the inspiration for the painting while observing the nature and gardens that surrounded him at the asylum. "Irises" used black contours, which aided in strengthening the expressive look of the painting and was a common component of Japanese woodblock prints created during the seventeenth century.
Poppies Series
From 1886 to 1890, Van Gogh painted a total of seven paintings featuring poppy flowers. At the time, Van Gogh was not able to pay models to use for his paintings, so he chose to paint still lifes instead. While the poppy flowers are the main focus point for the series of paintings, other things are depicted in some, such as vases, butterflies and trees. The paintings also featured complimentary colors, such as red with green, which differentiated Van Gogh's still life paintings from others.
"The Potato Eaters"
When Van Gogh painted "The Potato Eaters" in 1885, he had yet to fully develop the techniques which he would show later in paintings. However, many consider this to be his first great work of art. The painting displayed five people sitting around a table, eating potatoes, while in the midst of a conversation. Intricate details can be seen in "The Potato Eaters," such as the expressions on the people's faces and their bony fingers, as well as the plate of potatoes and a coffee-like brew being poured.
Photo Credits
Jupiterimages/Photos.com/Getty Images