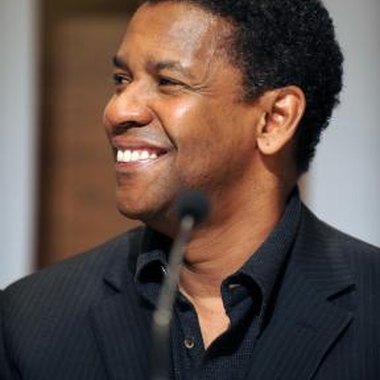 "Antwone Fisher," released in 2002, stars Denzel Washington and Derek Luke. The movie centers on the true story of a U.S. Navy sailor, and it was based on Fisher's autobiographical book "Finding Fish." It was Washington's directorial debut.
Plot
After repeatedly getting into trouble for fighting with his fellow sailors, Fisher (Luke) is sent to naval psychiatrist Dr. Jerome Davenport (Washington) to discover the source of his rage. With Davenport's help, Fisher explores the secrets of his turbulent past and ultimately seeks out his family to confront it. The film focuses heavily on the relationship that develops between Fisher and Davenport, while Fisher's past is explained through a series of flashbacks.
The Story Behind the Film
Fisher decided to write his story simply because he had always been told he couldn't do it, that he did not have the skill. He signed up to a free screenwriting class at his church, taught by producer Chris Smith, who later introduced Fisher to Todd Black, producer of films such as "A Knight's Tale." Black was so impressed with Fisher's story that he was determined to do whatever it took to help him write it and bring it to the screen. When the screenplay was finished, Black sent it to Denzel Washington. The veteran actor surprised him by not only agreeing to star in it, but also asking directing the film. "Finding Fish" was published shortly after the film's release.
Cast and Production
The young Luke was cast as Fisher; coincidentally, he had befriended Fisher when they both worked at the Sony Pictures lot. Former model Joy Bryant was cast as Fisher's girlfriend Cheryl Smolley. The movie's theme -- of a man who found hope and love through the help of an outstretched hand -- inspired the filmmakers to give back to the communities where they were based during the shoot. In the Cleveland neighborhood where Fisher's childhood was shot, community members were hired to work on the shoot, and several buildings that were used as locations were renovated afterward.
Critical Reception
The film was generally well received by critics and has a score of 79 percent on the review aggregate site Rotten Tomatoes. Stephen Holden of The New York Times described it as inducing "the sort of catharsis that leaves you feeling released, enlightened and in deeper touch with humanity." The film won a number of awards, including the Discover Screenwriting Award from the American Screenwriters Association and the Independent Spirit award for Best Actor for Luke.
Photo Credits
Sandy Young/Getty Images Entertainment/Getty Images