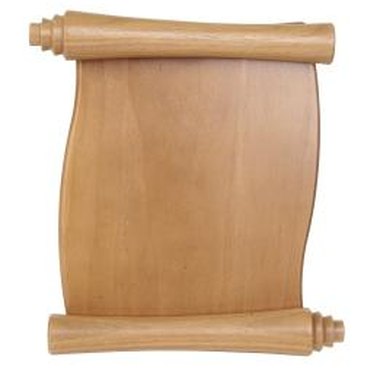 Brighten someone's day or commemorate a special occasion by decoupaging a favorite quote onto a wooden plaque. Despite its fancy-sounding name, which comes from the French word meaning "cutting out," decoupage is an easy technique that you can do without investing a lot of money on tools or supplies.
Items you will need
Wooden plaque

Sandpaper, several different grades

Tack cloth

Paintbrushes

Acrylic paint

Printer

Paper

Spray bottle

Foam brush

Decoupage medium or white glue

Varnish
Step

1
Prepare the wooden surface. Sand it until it is completely smooth. Start with a coarse grain of sandpaper and repeat with a series of finer grades until the wood is perfectly smooth. Remove all traces of sawdust with a tack cloth.
Step

2
Seal the wood. Paint it with a coat of white or other light-colored acrylic paint. Let the paint dry and add a second coat. Sand the surface lightly and remove all the dust.
Step

3
Print your quote on the paper of your choice. Allow the ink to dry thoroughly. Trim around the quote in a shape that will fit on your wood. Lightly mist the paper with water from the spray bottle and position the paper on the wood.
Step

4
Use a foam paintbrush to brush a thin coat of decoupage medium or white glue over the paper. Cover it evenly and allow it to dry. Discard the brush or rinse it thoroughly in clean water and set it aside to dry.
Step

5
Use a soft paintbrush to brush a coat of varnish over the wooden plaque. Allow it to dry completely. Repeat this step as many times as you need to obtain the desired results.
Tips & Warnings
Start by gluing a single corner to make sure the paper is positioned exactly where you want it.

Thin the white glue with a little water if it is too thick.

For a fancier look, embellish the plaque with dried flowers or paper cutouts before applying the decoupage medium.

Do not seal the wood with an oil-based paint.

Apply the varnish in a well-ventilated place.
Photo Credits
Photos.com/PhotoObjects.net/Getty Images