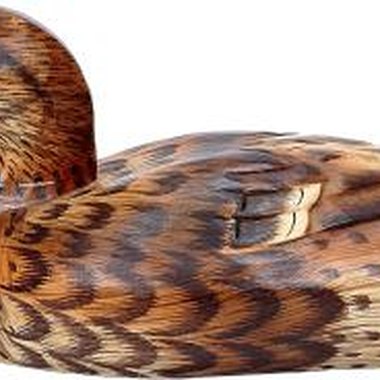 For the person who loves the outdoors and the excitement of hunting, it might seem like an eternity waiting for hunting season to begin. When it finally does, it can become an occasion to celebrate. If you're helping the hunter in your house kick off hunting season, consider having a get-together to mark the occasion. This event gives you a chance to bring a hunting theme to your decorating, including your table's centerpiece.
Hunting Season
As the leaves of the trees change, bringing fall's crispness to the world, the calls of the hunters ring out in the woods surrounding many cities and towns. When you're considering what elements to choose for your centerpiece, consider the numerous waterfowl to the numerous deer and elk that roam the hills. Some element of these animals can make an appearance in your centerpiece if you exercise a bit of creativity.
Hunting Colors
One simple way to decide on a color scheme for a hunting-themed table centerpiece is to choose rich fall colors such as crimson red, burnt orange, yellow and forest green. The advantage of using these colors in your hunting-themed centerpiece is that the materials to build your centerpiece in these colors are plentiful.
Authentic Touches
Build the foundation for your hunting table centerpiece by choosing some authentic or authentic-looking hunting items. For example, consider cardboard boxes covered with a camouflage pattern. Make this the container for your arrangement. Flank the sides of the arrangement with items like wooden decoy ducks or insert duck calls into the flowers by fastening them to a florist's pick. Another option is to add pictures of the hunters in the family to a container or vase using the decoupage crafting technique. This simple craft involves gluing photos or pictures onto objects with a bit of craft glue and then sealing the piece with a coat of glue. This brings a more decorative element to your hunting table centerpiece (see Resources).
Materials
Because of the seasonal constraints, make your hunting-themed centerpiece from dried and silk flowers. Fill your container or vase with flowers such as sunflowers or tiger lilies. Insert miniature cattails into the blooms; these evoke the feel of the hunter waiting in the marshes for waterfowl. Decorate the bouquet with pheasant feathers and arrange items like mini-pumpkins, squash and gourds around the bottom of the centerpiece. Finish the centerpiece off with light sprigs of baby's breath.
Photo Credits
Zedcor Wholly Owned/PhotoObjects.net/Getty Images