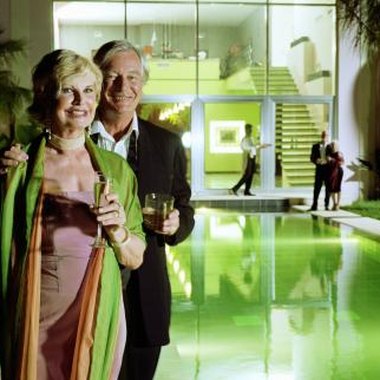 No more alarm clocks. No more getting stuck in traffic. No more limits on lunch time. And for female retirees, that also means no more stocking up on pantyhose. Women like these deserve a party. Jazz up the room and set the table just right. Pull out all the stops and decorate the room for the retirement party so it is fit for a queen.
Her Throne
Do not dare let her sit on a plain on chair. This is a day where she deserves a true seat of honor. Rent a throne from a theatrical supply store or an antique shop so you can really give the retiree the royal treatment. Look for one that's spray painted in gold and has plush red velvet cushions, or purchase cushions for the occasion. Even if the party will be at home, providing a special chair is fitting and proper for the occasion.
Tabletop Decorations
Make a classy statement with tabletop decorations. Put gold or silver charger plates underneath plain white china. Use mirror squares under the charger plates so the room's light bounces and shimmers. Set dainty finger bowls next to plates for a formal party. Put tea light candles in small bowls with rose petals. If the party will be less formal, such as a backyard barbecue, choose silver or gold metallic coated plastic plates and dinnerware. Add a tiara on top of the retiree's dinner plate.
Flowers
Flowers are a must and worthy of lots of fuss. Find out the retiree's floral favorites and make sure each stars at the party. Use clear glass vases so the colors of the flowers really stand out. Create a centerpiece arrangement for each table, or put a small bud vase with a sprig or single flower next to each guest's plate. At a stand-up party, put flowers on the bar and on the food tables. Create a distinctive floral table spray to grace the retiree's place setting, or present her with a small flower spray to wear in her hair at an informal, home party.
Colors
In addition to her favorite flowers, incorporate her favorite colors into the room. If pink puts a smile on her face, tie pink balloons to chairs or hang them from the ceilings. Mix in white, black or silver balloons to make the color pop. Feature the color in place cards for guests and as the main color for a printed program for a semi-formal or formal retirement party at a hotel or banquet facility.
Her Favorite Themes
Create theme decorations centered on the things she is leaving and the things she is looking forward to doing. If she is retiring as a lawyer, put a big red "X" in tape on the cover of law books. Stack a few books on the table where she is sitting or on the table next to the guestbook. If she is taking a well-deserved vacation to Hawaii, choose a tropical theme for the room. Hang a raffia skirt around the bar or put up tropical colored streamers. Put leis on the banquet tables and rent palm trees to scatter around the room.
Photo Credits
Digital Vision/Digital Vision/Getty Images