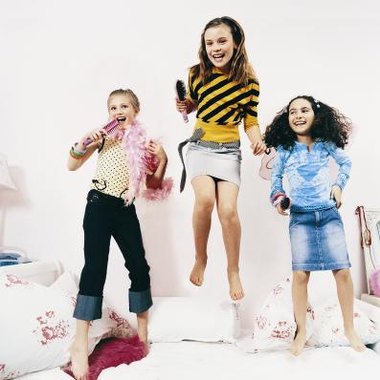 Young children typically enjoy dancing and music, so for your 8-year-old girl's next party, give it a funky dance theme. Dancing encourages children to get up and move, thus burning off excess energy and leaving them relaxed at the end of the day. It also allows your 8-year-old to enjoy herself and her friends, while expressing herself musically.
Decorations
Before turning your home into a dance floor, you'll need to designate a dance area. An area with carpet is ideal, to prevent slipping and sliding. Move all of your furniture out of the way and begin decorating. As with any dance party, a disco ball is a must. Hang streamers from the center to the corners of the room in funky colors. Add metallic tablecloths, beaded curtains, shiny hanging stars and pictures of her favorite musicians around the room. Sprinkle tables with glitter. Strobe lights, Christmas lights, or a black light will add to the dance atmosphere.
Music
A party cannot be a dance party without tunes. Because you're dealing with 8-year-old children, you will need to choose child-appropriate music. You may purchase music downloads and put together your own child-friendly CD, or select CDs from artists such as Big Time Rush, Miranda Cosgrove, Justin Bieber, Victoria Justice or Miley Cyrus, depending on your parental preferences. If your cable offers music services, just turn it to a child-friendly music channel and let it play until the party is over.
Activities
Create activity stations such as a karaoke area, musical chairs and of course, a dance floor. Host a game or two of musical chairs and have a dance contest. Another dance party activity for 8-year-old girls is to look up videos of dance routines and try to duplicate them as a group. Let the girls go crazy with funky clothes and dress up like rock stars. A possible dance party craft is making musical instruments, such as a guitar with a tissue box, rubber bands and a paper towel roll, or a tambourine with pie tins, dry beans and glue.
Party Favors
Choosing party favors for 8-year-old girls is relatively easy. Accessories such as slap bracelets, star necklaces, clip-on earrings, hair glitter or temporary tattoos are likely to go over well with the younger crowd. Music related gifts such as child-friendly CDs, musician T-shirts or a music group poster are also appropriate. Other favors include miniature black lights, disco ball key rings, stickers or glow-in-the-dark items.
Photo Credits
Digital Vision./Digital Vision/Getty Images