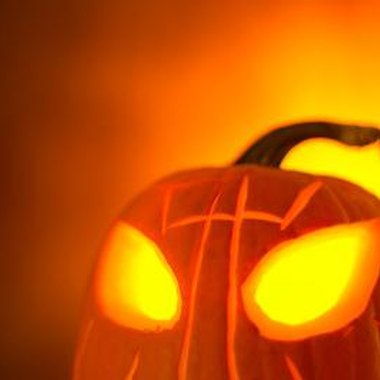 You can increase the excitement of a Halloween party be creating an appropriate holiday atmosphere and planning games that will enhance your guests' enjoyment. Decorating for Halloween and planning party games takes a little bit of preparation but it does not have to be expensive. The extra effort will showcase your ability to entertain and make your party hauntingly successful.
Pumpkin Games
Create a masking tape line on the floor. Place three small pumpkins a comfortable distance from the line based on a distance that will be challenging for the age group playing the game. Make several rings out of tin foil that are large enough to fit over the pumpkins. Guests can try to ring a pumpkin for prizes. Purchase a plastic pumpkin with that is open at the top. Give guests bean bags and see who can successfully toss their bean bags in the pumpkin. Divide the guests into two groups and blow up two orange balloons. Use black marker to create a bat or jack o' lantern on each balloon. Each team must keep their balloon in the air but may only contact the balloon with a specific body part. For example, their head or elbows may keep the balloon in play. Teams start with ten points. Every time a team's balloon hits the ground, it loses a point. When a team reaches zero they are out of the game.
Other Halloween Games
Create clues and send guests in search of a Halloween treasure. Consider making a small chest of toy bones or adults may enjoy finding a cauldron of spiked punch. Divide the guests into teams and assign each team a color. Clues for each team should be on colored construction paper corresponding to their team color. Make a few poems that will provide clues to send each team to the prize. Print or create bingo cards. If you are making the cards, cut paper into bingo cards and divide it into a standard bingo grid. Write Halloween related words on the cards. Make a call list of words on small pieces of paper and put them in a jar. Randomly call out the words when guests play. Use candy corn as bingo markers.
Low Cost Decorations
Make your own tombstone by purchasing a piece of 14-inch-by-24-inch styrofoam. Position the styrofoam so that it is 24 inches tall. Use a hot glue gun to write R.I.P. (rest in peace) and the name of the deceased on the upper third.. Underneath write a date with the hot glue gun. Wait till the glue is completely dry. Spray paint the tombstone with a stone colored paint. Lean the tombstone against the corner of a room and lay some dead flowers in front of it. Spray paint pumpkins black. Cluster them in a corner of the room. Place an old broom next to one of the pumpkins.
Table Decorations
Homemade Halloween napkin rings will keep your table in the spirit of Halloween. Cut a cardboard paper towel roll into 1-inch rounds. Spray paint the rounds black. Affix a pumpkin or ghost sticker to the front of each napkin ring. Purchase a pumpkin with a long stem. Fill black and orange balloons with helium and tie them to the pumpkin stem for a festive centerpiece. Cover a small table with a black tablecloth. Put a few candles in tarnished silver candlesticks and cluster them on the table. Layer fake spider webs around the bottom of the candlesticks.
Photo Credits
Hemera Technologies/Photos.com/Getty Images