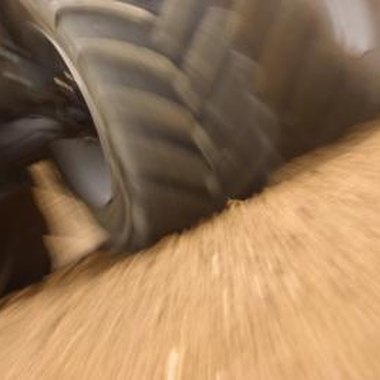 Children, especially boys, often fall in love with the brightly colored graphics, larger-than-life size and ground-shaking rumbling of monster trucks and want to have the beastly vehicles as the theme for a birthday party or other celebration. Fear not if you have been tasked with creating a monster-truck-themed event. With a little creativity, decorating for a monster truck party can be done inexpensively and easily, often with items you already own or can easily find at a grocery store.
Color
If your party's guest of honor is a fan of a particular monster truck, use decorations in that vehicle's colors to accent your celebration. For instance, choose lime and black colored streamers, balloons, napkins and paper plates to decorate a Grave Digger fan's party or use items in blue for a Bigfoot fan's event. If your guest of honor doesn't have a favorite monster truck, decorate your party with black and white streamers, checkered flag napkins and dishes, and bunches of black and white balloons placed gaily around your event.
Decorating with Food
Offer refreshments at your party that will help convey the overall monster truck theme. For example, you can leave out plates of chocolate-covered doughnuts and label them as "Tires," or serve a "dirt" dessert, which is chocolate pudding covered with crumbled Oreos. Place a few clean toy cars on the "dirt" dessert and add a larger truck toy rolling over the top of them. In addition, you can serve your drinks or food items in trophy replicas. Finally, serve a cake that either has a monster truck image screened onto its surface or has monster truck decorations on it.
Signage
Use clever signage to keep the monster truck theme alive throughout your party. By the food tables, place signs that reads, "Refueling Station," or "Fill 'Er Up." You can even add a sign on your bathroom door that reads, "Pit Stop." Draw or have an artist friend draw or paint images of monster trucks on poster boards that you can then display around the party. Additionally, you can use a word-processing program to create monster truck-theme labels to spice up the look of ordinary items you may be serving at your party, such as water bottles or juice boxes.
Toy Trucks
Use large, clean toy trucks as decorations and place items such as napkins or forks in their beds. Inexpensive plastic toy trucks can also serve as the base for your gift "bag" that each child will be taking home at the end of the party. Place party favors such as bubbles, smaller toys, candy or cookies in the bed of the truck and wrap each with cellophane and tie neatly with black and white ribbon. Line up your trucks on a table so they can add a festive touch to your party or use them as centerpieces on the tables until they are ready to go home with your party guests.
Photo Credits
Hemera Technologies/AbleStock.com/Getty Images