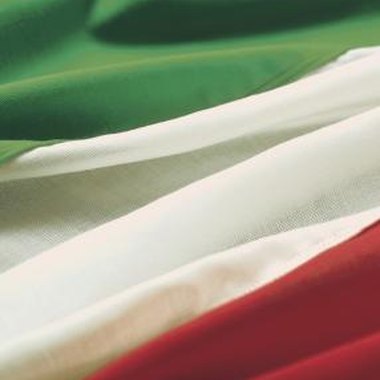 You can build a bridal shower around a place or culture as a fun way to carry a theme. Play on the anticipation for brides with Italian ancestry or honeymoon plans in Italy with an Italian-themed shower. Whether you're buying decorations or getting crafty, Italy's rich culture provides endless inspiration for an Italian-themed bridal shower.
Italy's Colors
The Italian flag provides an obvious foundation for decorating an Italian-themed bridal shower. Luckily, just about every brand of disposable napkins, plates and cutlery, along with balloons and streamers, come in green, red and white. This color palette can influence your food choices, too. A caprese salad, for example, combines tomatoes, basil and fresh mozzarella cheese, and can be arranged on a platter to mimic the Italian flag.
Wine Theme
Another Italian-themed decorating idea for your bridal shower takes advantage of Italy's most famous export: vino. You can find disposable napkins and plates with images of grapes and wine at many party stores. Use a variety of fresh grapes on your food table, or display snacks in wooden wine crates, usually available at low cost from wine retailers and craft stores. Consider hanging real ivy and vines around the room to create a vineyard feel. Then incorporate a wine tasting into this themed shower.
Food Theme
You can use the food you serve to not only feed your guests but also set the mood for an inspiring bridal shower for your bride-to-be. Create a lovely and luxurious Italian cheese display with imported cheeses set up at different heights on wooden crates. Write the name and description of each cheese on a small chalkboard. Or set out an antipasto bar to add beauty and color to your shower food table. Use olives and roasted peppers in a variety of colors.
Tuscan Theme
Italy's Tuscany region evokes romance and color. One of the most noticeable things about Tuscan design is the color palette, which, according to Tuscany Tonight, includes "Siena orange, herbal green, sunflower yellow and terracotta brown." Consider holding your Tuscan bridal shower outdoors for an effortlessly earthy feel. Or, bring the outdoors in by displaying cut sunflowers in vases with fresh herbs for the foliage and broken pieces of clay tile in the bottom.
References
Photo Credits
George Doyle/Stockbyte/Getty Images