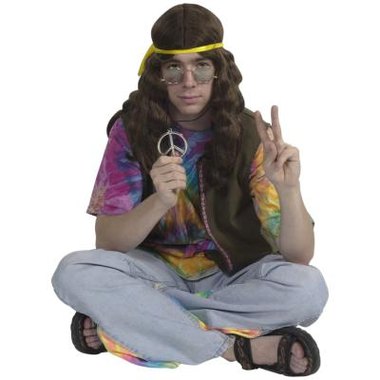 We all don't live in a yellow submarine, but we can for a day, or at least pretend to. Whether for a child or adult, a yellow submarine party is a creative theme for a party. Begin to think about the '60s, hippies, the Beatles and underwater, and you're well on your way to creating a memorable party for all ages.
Items you will need
'60s items and clothing

Newspaper or stuffing

Tape

Posters

Pictures

String

Signs

Cardboard box

Paint

Paper towel tubes
Step

1
Gather together '60s items. Use Beatles memorabilia as decorations for a Yellow Submarine party. Posters, album covers and anything else Beatles-related will do. Pin up old antiwar posters, Volkswagen Beetle pictures and peace signs. Gather hippie-type clothing, such as bell bottoms and a tie dye t-shirt, and stuff it with newspaper or polyester stuffing to make a stuffed man. Blow up a balloon for the head and draw on a face with round glasses like John Lennon. Don't forget a '60's-style wig and a peace necklace or beads.
Step

2
Use the "Yellow Submarine" lyrics to help guide you in the decorations. Write out the lyrics on poster paper or make signs using a publishing program and decorate the area near the sign based on the lyrics. For example, make a sign that says the first two lines of the song: "In a town where I was born lived a man who sailed to sea." Then, find a picture online or draw and color a picture of a man on a sailboat with a town in the background. In the next section of the room, pin up the next couple of lines of the song and decorate with corresponding items, and so forth.
Step

3
Decorate the party area so it looks like it's underwater. Tape pictures of fish, coral and other sea life on the walls. Hang pictures of jellyfish and octopuses from the ceiling. Make blue waves with blue paper and tape them to the walls. In the center of the room, make a yellow submarine with cardboard boxes and yellow paint. Make a periscope by taping together paper towel rolls. Kids will especially have fun playing with this added feature.
Step

4
Take on a different interpretation of a yellow submarine party and use submarine sandwiches as your inspiration. Print out pictures of subs in black and white, color them yellow and tape them to the walls. Buy plastic ingredients that would be found on a sub, such as cheese, tomato and peppers, and arrange them in a bowl as a centerpiece. Look in a toy store for the fake food. Or, buy real sub rolls and place the fake food on the inside and arrange them that way in a bowl as a centerpiece. Don't forget to serve submarine sandwiches at the party.
References
Photo Credits
Ablestock.com/AbleStock.com/Getty Images