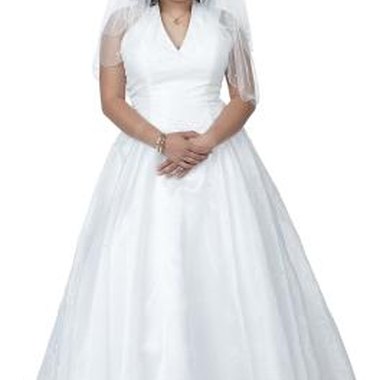 The tradition of bridal shower umbrellas began in the 1890s when hostesses began placing small gifts inside a parasol and showering them over the bride. While modern bridal showers may not include actually filling an umbrella with presents, the tradition of umbrellas at a bridal shower is still utilized as decorations for the event.
Bridal Umbrella
Create an umbrella just for the bride that will leave her with a keepsake of her bridal shower. Begin with a white parasol and get fabric that coordinates with her wedding colors. Trace her initials into the fabric and cut them out. Either sew or use fabric glue to adhere the initials to the parasol and allow them to dry. When the bride-to-be opens the bridal umbrella, she will find a personalized memento of her bridal shower.
Well-Wishes Umbrella
Reach back to the original intent of bridal showers, which was for friends of the bride to give her advice and support before her big day. Get a large poster board and a cutout of an umbrella. Glue the umbrella to the poster board and place it on an easel. During the party, the bridal shower guests can write their well wishes for the bride on the umbrella. This decorative umbrella can then be left up as decor for all of the party guests to enjoy.
Jeweled Bridal Umbrellas
If you are throwing a bridal shower for a bride-to-be who is planning to have a lot of sparkle in her ceremony and reception, create a bridal umbrella that fits the theme. Use a hot glue gun and place rhinestones, gems and jewels over the entire umbrella. Choose colors that complement her wedding theme or use solid diamonds craft jewels. As the bride walks, the light will catch the bejeweled umbrella and will supplement her being the star of her own bridal shower.
Bridesmaids Umbrellas
Have some fun with your bridesmaids by decorating coordinating umbrellas for all of the ladies in your wedding party. Choose a design theme such as animal print, stripes, spots or a floral design. Cut out matching panels of fabric and sew them onto the bridal umbrellas. Add an additional element of fun by hot gluing decorative beaded ribbon or feathers to the rim of the umbrella.
Resources
Photo Credits
PhotoObjects.net/PhotoObjects.net/Getty Images