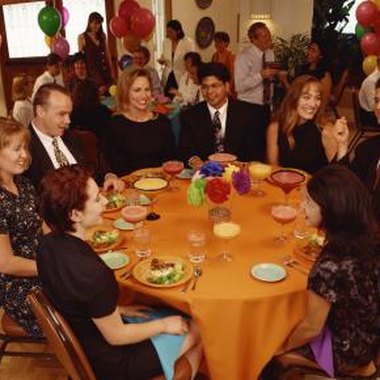 Since you're in charge of planning your loved one's birthday party or anniversary, or are hosting a social event, you'll want all the tables to be as colorful and eye-catching as possible. Think about the guest of honor's favorite colors, the theme of the celebration, and elements that will impress the guests when putting the table decorations together. You can even include some edible decor that will keep your loved ones occupied until the main course is served.
Items you will need
Tablecloths

Table runners

Flowers

Vases

Small bowls

Fruit

Nuts

Candles

Table confetti
Step

1
Select tablecloths that match the party's color scheme or are specific to the occasion. For instance, a gold tablecloth is appropriate for a 50th anniversary or birthday event, while silver is the ideal color for a social gathering celebrating a loved one's 25th birthday or a couple's 25th wedding anniversary. Use a table runner if you don't want to cover the table completely. A bright color like orange or yellow is fitting for a summer event, while shades like hunter green or cranberry work well for a Thanksgiving dinner.
Step

2
Add flowers to the tables in the form of a centerpiece, or place small bouquets along the center of the table. If you're hosting a social event with a Valentine's Day theme, red and white roses are striking and elegant. Place the blooms in a clear glass or silver vase and place one medium-sized arrangement in the middle of each table. Add even more color and texture to the centerpieces by slicing fruit and placing it in the vase to coordinate with the flowers. For instance, complement the white and yellow daisies you've selected for your spring party with slices of lemons and oranges in the vase. Or, use containers that fit the party theme instead of a vase. For instance, empty wine bottles filled with flowers are fitting for a social event that features wine tasting. For a flower-free centerpiece, drop an LED ice cube in the vase, and cover it with small glass stones to give the centerpiece a colorful glow.
Step

3
Place small bowls around the centerpiece filled with small treats for guests to enjoy as they're socializing. For instance, a holiday social event calls for red and green bowls of mini sugar cookies decorated to resemble Santa hats, Christmas trees and gifts. For a casual barbecue or tailgating party, place snacks like smoked peanuts and almonds or pretzels in the bowls.
Step

4
Adorn the table with scented candles that match the decor. Place the candles a safe distance from the bowls on the table if you want to light them for an evening social gathering. Pumpkin-scented candles will go nicely with an orange, red and green Thanksgiving celebration, and candles with a lavender fragrance are the perfectly scented addition to a party with a purple color scheme.
Step

5
Complete the table decor with confetti that emphasizes the theme. Confetti in the shape of numbers that indicate the birthday or anniversary year for the party is fitting. Shaped confetti, like candy canes for a Christmas party, adds a little more festivity to the decorations.
Photo Credits
Jupiterimages/Comstock/Getty Images