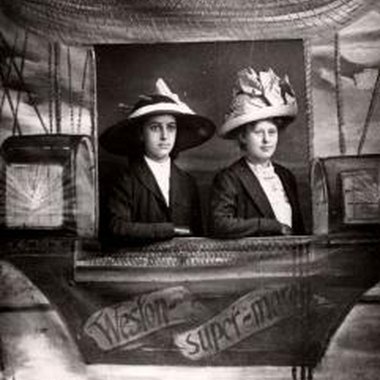 Using photos as decorations offers party guests the chance to not only enjoy a festive atmosphere, but to bear witness to past accomplishments, milestones and moments with the guest of honor. Transforming photos into party decorations goes hand in hand with the advent of digital photography. Party hosts can get creative using photo editing software to produce their own personalized decorations.
Items you will need
Digital and/or printed photos
Step

1
Feature selected photos on a special table, a wall, hanging from a string or on a mantle for guests to view. This becomes a simple, classy and timeless way to use photos as decorations. For a commemorative occasion, such as a birthday party or bridal shower, you can also invite guests to flip through a large photo album featuring the guest of honor. At the same time, this method remains a nice way to draw attention to older, less viewed photos such as the wedding portraits of the grandparents of a bride and groom during a wedding reception party.
Step

2
Make a slide show of favorite photos in an electronic picture frame, or projected onto a wall from a computer. Continuous slide shows, particularly without music, function as engaging, electronic decorations, rather than events, during the party.
Step

3
Create a life-size cutout of the guests of honor. For instance, for a wedding or anniversary reception that takes place some time after the event itself, large cutouts recreate the mood. They can displaying the bride and groom in their wedding attire for guests to admire. Guests can also take photos with the cutouts.
Step

4
Make interactive decorations from memorable photos, such as a puzzle or an activity akin to "pin the tail on the donkey," that guests can play with. Use them for raffle prizes as well.
Step

5
Create posters from photos of guests to fit the theme of a party. For instance, to enhance a "Roaring 20s" costume party, transform existing portraits of guests into Art Deco style posters using software such as Microsoft Paint or Adobe Photoshop. Add text, effects and then print and frame the photos. These artistic posters can also serve as unique take-home gifts for guests.
Step

6
Print photos onto table cloths, paper cups and plates to highlight a theme. Use scenic pictures of a particular place or environment -- such as photos of an Italian vacation for an Italian dinner party, pictures of a bride's childhood garden for her spring bridal shower or photos of past years' carved pumpkins for a Halloween party -- as unique and creative party decorations.
Tips & Warnings
Always confirm that you have permission from a person in a photo, and/or the person who owns the photo, before turning that photo into a party decoration.
Resources
Photo Credits
Photos.com/Photos.com/Getty Images