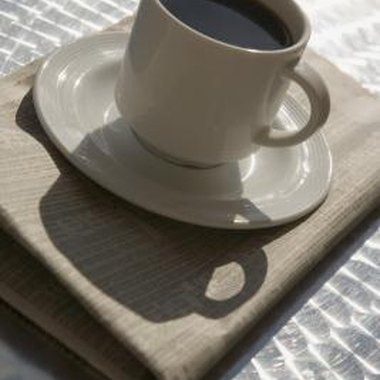 Do you have a coffee mug that needs a new look? Rather than buying a new mug or dealing with the same, boring cup, sew a stylishly decorative cozy. Find a fun or pretty fabric of any type to make a cozy, then add a unique button to keep it in place. Once you have made the main cozy, you can add more crafty decorations to enhance its look. Use a pattern that will accommodate any mug size or shape.
Items you will need
Measuring tape

Scissors

Fabric

Sewing needle

Sewing thread

Medium or large button

Embroidery thread

Extra buttons, rickrack, ribbon, appliqué pieces or other embellishments (optional)
Step

1
Measure the height of your mug with the measuring tape. Subtract 1 inch to find the height of your mug cozy. Wrap the measuring tape around the outside of the mug, beginning and ending on either side of the handle. Multiply this number by two to find the length of the fabric you will be cutting.
Step

2
Cut a piece of fabric, using scissors, that matches the measurements you made in Step 1.
Step

3
Fold the fabric in half widthwise with the right sides facing each other. Sew the long sides together with the needle and sewing thread. Turn the work inside out, so that the right sides face outward. Sew the opening on the short third side closed.
Step

4
Sew the medium or large button about 1/2 inch from one of the short edges, in the middle. Thread the needle with the embroidery thread, then insert it about 1/4 inch from the opposite short edge. Bring the needle back down through the fabric but do not pull it entirely through, creating a loop. Hold the cozy against the mug. Adjust the loop's length so that it can reach the button. Knot the ends of the embroidery thread to secure the loop in place.
Step

5
Sew on extra buttons, ribbon, rickrack, appliqué shapes or other embellishments to further decorate your mug cozy.
References
"Reader's Digest Complete Guide to Needlework"; 1979
Photo Credits
Comstock Images/Comstock/Getty Images