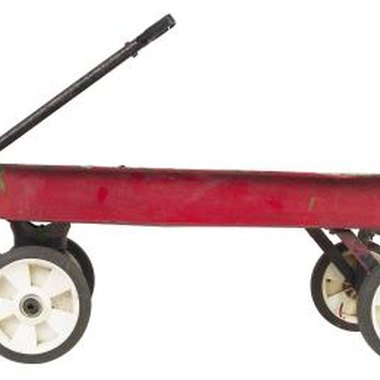 Whether it's in honor of a holiday, a special occasion like Old Home Day or just nice weather, a parade provides a way to gather people together, have a good time and celebrate. Children are also often eager to participate in parades. Rather than making them walk the whole way, a float made out of a decorated wagon provides the kids with a way to be a part of the parade and contribute their own festive addition to the event.
Items you will need
Streamers

Balloons

Posters

Paint

Markers
Step

1
Determine whether there are any regulations that pertain to the creation and decoration of kids' wagon floats. Before you start decorating, you should know about any size limitations or other rules about the floats.
Step

2
Develop a theme for the float. If the parade already has a specific theme, let your design be inspired by that. If not, think about the season, the holiday, your favorite activities, colors or other ideas that can inspire your float's appearance.
Step

3
Modify the shape of the wagon by attaching painted cardboard, foam or other large materials. While the wagon will look great the way it is, any changes to the shape of the wagon should be done before you start decorating.
Step

4
Create signs for the wagon. Use paint or markers to write a message related to your theme on some poster board. For instance, a patriotic quote in red and blue marker from the founding fathers is perfect for Independence Day. Tape the poster to the wagon.
Step

5
Adorn the wagon with colorful streamers, crepe paper and shiny garlands. Again, stay with the color scheme and decorative theme of the wagon. For example, on Independence day, use red and blue streamers and sparkly silver star-shaped garlands.
Step

6
Add other decorative touches. Colorful pictures, shapes like stars cut from metallic paper, and flowers can be added to the wagon to give it more personality and make it even more beautiful.
Step

7
Throw in some props. Stuffed animals, flower pots or other thematic items make the float more interesting. For example, for a farm inspired float wagon, add some stuffed cows and horses to the wagon.
Step

8
Dress up the kids in fun costumes. The children who will be riding the float are part of the wagon's decorations too. Costumes, from a farmer's overalls to a red, white and blue top hat, give the overall ensemble a special touch.
Photo Credits
Hemera Technologies/PhotoObjects.net/Getty Images