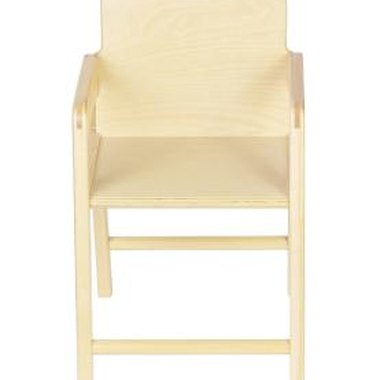 Babies spend a large portion of their time in highchairs. Any holiday or celebration in a baby's life is often spent in the highchair. One way to make the highchair appear more festive is to decorate it for the event. Some party stores sell highchair decoration packages for baby's first birthday and other special events. However, you can decorate the highchair using regular decorative supplies purchased from a party supply store. Use your imagination to create any birthday theme. The highchair can easily transform into a motorcycle, princess tower or space ship.
Items you will need
Crepe paper

Clear tape

Scissors

Banners

Plastic tablecloth

Balloons

Helium tank

Ribbons
Step

1
Wrap crepe paper around the legs of the highchair. Use paper in party theme colors. Use tape to secure the paper in place.
Step

2
Place a festive tablecloth under the highchair. This will not only make the highchair appear more festive, but it will also catch any unwanted food spills that the baby might make.
Step

3
Tape a banner around the bottom edge of the highchair tray. "Happy Birthday" banners or other theme banners work well placed here. Make sure the baby cannot grab the banner while sitting in the chair.
Step

4
Fill up several balloons with air. Tape the balloons randomly around the frame of the highchair. Make sure no balloons are within the baby's reach. Fill up five to seven balloons with helium. Tie the balloon bouquet to the back of the highchair with ribbons. Keep the ribbons and balloons out of the baby's reach.
Step

5
Add theme decorations as desired. For example, make a motorcycle-themed highchair by using black and silver decorations. Tape two paper handles to either side of the chair tray. Cut out wheels from paper and tape them to the legs of the chair. Or, make a spaceship by using white, black, red and blue colors. Tape a triangle nose to the back of the highchair seat. Tape two black rocket fins to the sides of the chair. Use red balloons to make a rocket engine. For a princess tower, cover the legs of the highchair in brown or gray paper to represent tower walls. Add a large paper triangle to the back of the chair seat for a tower spire. Decorate the base of the tray with paper vines or flowers.
Photo Credits
Hemera Technologies/PhotoObjects.net/Getty Images