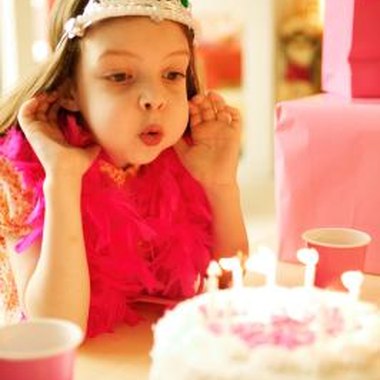 A Hello Kitty themed birthday party can be fun for young girls as well as young adults who've grown up with the character. Hello Kitty has been popular worldwide since the mid-'70s. New generations of children are discovering this tight-lipped kitty while older generations enjoy her for the nostalgia value. Hello Kitty's long running popularity provides a cornucopia of decorating ideas. Every party or kitsch shop is eager to jump on the Hello Kitty bandwagon, and you can even find products such as a waffle iron that makes waffles in the shape of Hello Kitty's face. Nothing says devoted fan like ingesting the face of your idol! It might even give you her powers of cuteness.
Items you will need
Pink, purple and white streamers

Plates

Cups

Cake

Balloons

Party favors
Step

1
Set a spending limit. Take into account the number of guests and the amount of space available in your house. If you have a small living room, a 6-foot Hello Kitty balloon might crowd out the other guests. It's easy to be overwhelmed by the sheer number of decorative products available. A spending limit will help you choose between the piñata and the "pin the tail on the Kitty."
Step

2
Stage the party area. Decide where the games will be played, where the cake will be served and eaten and where the presents will be opened. Take note of the decorating supplies you'll need for each area. Plates, silverware and cups will be required for the cake and snacks. Place balloons and streamers up high, so they won't disturb any active games. Imagine opening the presents in front of a background of streamers and balloons. Perfect photo op!
Step

3
Color coordinate. Most Hello Kitty products come in pink or purple. Include white to make an accent color. Buy single-colored streamers or official Hello Kitty streamers. Choose balloons in your theme colors instead of buying several Hello Kitty licensed balloons. Stick with the color theme. If you buy pink Hello Kitty plates and cups, avoid buying party favor bags, party hats or centerpieces in a conflicting color.
Step

4
Include the food. There are decorating molds to create your own Hello Kitty-shaped cake or you can order one from a local bake shop. Or try pink and purple cupcakes, especially if they're topped with a small treat such as a ring or jelly bean. Keep the food on the same color scheme as the rest of the party. Pink punch will fit in better than orange or blue. You can find Hello Kitty brand snack foods at your local grocer.
Tips & Warnings
Buy items keeping with the color theme instead of spending extra money on licensed products.
Photo Credits
Photos.com/Photos.com/Getty Images