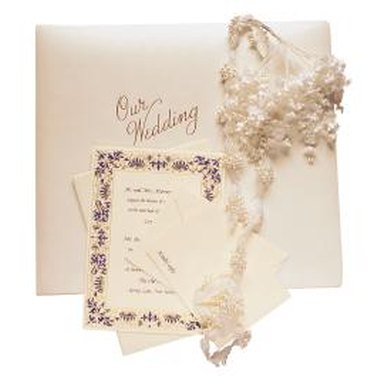 Wedding keepsakes that memorialize your special day can be as creative, bold or elegant as you want them to be. Make a decorative frame to house one of your invitations using remnants from your wedding or a few inexpensive craft items. Look through the items you have from your wedding first to get inspiration. Items such as dried flowers, prints from note cards, wrapping paper or bows are all great re-purpose items.
Items you will need
Embellishments

Hot glue

Decoupage glue

Paint brush
Decoupage
Step

1
Gather your design pieces. Use leftover wrapping paper from wedding gifts, pieces of wedding stationery such as RSVP cards or reply envelopes, and scrapbook paper. Also decorate with dried leaves and flowers from your floral arrangements.
Step

2
Disassemble your frame so that you are working with the frame or matte portion only. Style the embellishment paper by mixing different layouts and textures of your design pieces as collages or mosaic patterns.
Step

3
Prepare decoupage glue to finish your work. Decoupage glue is available in several finishes, such as matte, glossy and glitter and can be used directly on an unfinished wood frame or along the inner matte of the frame. Pour the glue in a small bowl and add small amounts of water, stirring with a paintbrush until the mixture is the consistency you desire. Thick mixtures may cause longer drying times, whereas thin mixtures may not contain enough glue to adhere properly.
Step

4
Dip your paintbrush in the decoupage mix and paint over your design. This will set the paper to your frame. Your paper pieces may lift as you go over different sections so paint slowly to replace any pieces that come up. Remove the design, spray adhesive glue and replace your design before using the decoupage mix.
Step

5
Trim any pieces that hang over your frame or matte. Allow the glue to dry for several hours before you reassemble the frame.
Embellishments
Step

1
Add an embellishment to decorate your frame, such as a strand of pearls, shells, ribbon or buttons that complement the wedding theme. For example, if the wedding is a beach wedding, use sea shells. If the wedding invitation is for a Vegas event, use poker chips or small dice.
Step

2
Remove the back and glass from your frame and arrange the embellishments along the border of the frame before you start gluing.
Step

3
Use hot glue to secure your design and allow it to dry for a few minutes. Place the glass back in the frame followed by the invitation and frame backing.
Photo Credits
Comstock/Comstock/Getty Images