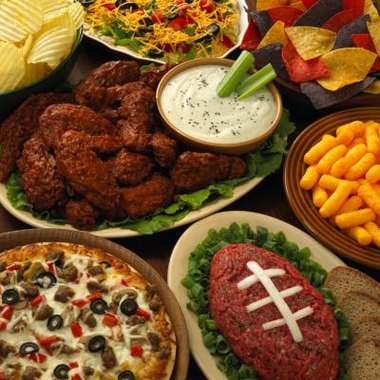 A football theme can please a sports enthusiast of any age. You can find decorating supplies at party stores, thrift shops and online. To save money, you can make your own decorations by cutting and coloring football shapes from paper. Let the age of the birthday honoree determine whether to use more child- or adult-appropriate materials. Brightly colored decorations will entrance a young child, while an adult might prefer more grown-up touches.
Items you will need
Streamers

Balloons

Football-themed tablecloth

Football-themed birthday cake
Step

1
Tape colored streamers from the ceiling. Arrange the streamers so they hang from the ceiling to the floor in alternating colors. When the party starts, you will be able to call the birthday honoree's name like a football announcer and have him run through the streamers into his party.
Step

2
Tie colored helium balloons outside so guests can find the party location easily. Tie football-shaped helium balloons in the house. Use two or three balloons in each corner of the party room.
Step

3
Cover the refreshment table with a football-themed tablecloth. Place a cake you have made or bought in the shape of a football, or designed to look like a football field, on the table.
Tips & Warnings
Set a spending limit. Save money by making a list of essential items and sticking to your spending limit.

Use streamers and balloons in the birthday person's favorite team colors. Use a brown and green theme to represent the colors of the ball and field for a generic party.

Plan for space limitations. Keep the refreshments along a wall to allow maximum space for games or mingling.

Have several real footballs on hand for outdoor games of tag football or just tossing back and forth.

Make your own sports-themed mix CD using songs played at games, such as "We Will Rock You" by Queen or "Let's Get It Started" by the Black Eyed Peas. Play a pre-recorded football game featuring the guest of honor's favorite team on mute in the background.
Photo Credits
Jupiterimages/liquidlibrary/Getty Images