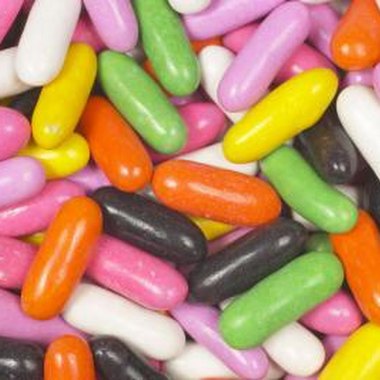 A candy-themed birthday party is suitable for a children's party or a throwback adult birthday party. Nearly everyone loves candy, and the bright colors provide a cheerful and colorful party theme. Decorating a candy birthday party is not difficult, because the candy itself provides most of the decoration. All you have to do is figure out the best way to display the candy during the party. Invite plenty of guests to take home leftover candy after the party is over!
Items you will need
Canning jars or other kitchen jars

Assorted candies and lollipops

Ribbon

Vases

Foam balls

Balloons

Colorful tablecloths

Crepe-paper streamers
Step

1
Fill small jars with assorted candies. These candies make pretty decorations for tables and other surfaces, and they can also double as a game if you have the guests guess how many candies are in each jar.
Step

2
Tie a small lollipop around each napkin with a ribbon for a cute and easy-to-make napkin ring.
Step

3
Fill a vase with assorted candies. Place a foam ball in the top of the vase. Stick lollipops into the foam to make a candy bouquet.
Step

4
Blow up round balloons. Tie colorful ribbons to the balloons. Place the balloons around the room to simulate giant lollipops.
Step

5
Scatter small candies around tables like confetti.
Step

6
Set up a candy bar. Place assorted candies on cupcake trays, in jars and on other trays or containers and lay them out on a table. Place a small scoop inside each container. For a party favor, allow guests to fill small bags or boxes with the candy.
Step

7
Cover tables and other surfaces with candy-colored tablecloths. Hang colorful crepe-paper streamers from doorways or windows.
Step

8
Tape pieces of candy together to make a large "Happy Birthday" banner. You can also tape or glue candies to an existing birthday banner.
Step

9
Decorate the birthday cake with the candy theme. Use lollipops or other candies to decorate the cake. Outline the birthday person's name with candy on the cake. If you don't want to actually place candy on the cake, shape colored fondant to look like candy and use that to decorate the cake.
Photo Credits
Photos.com/AbleStock.com/Getty Images