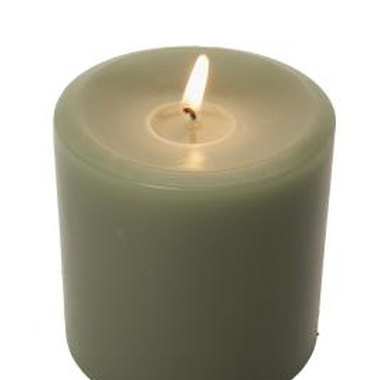 Candles can be used as centerpieces for the tables at a baby shower or they can serve as a shower favor. While you can buy candle holders and candles at a wide variety of stores, you can make them match the theme of the baby shower by decorating them appropriately. Whether you choose to decorate the candles themselves or place them into a decorated holder is entirely up to you. However, if you wish to light the candles during the shower, it is best to decorate the holders instead.
Items you will need
Measuring tape

Pictures

Scissors

Glue

Ribbon

Votive candles

Candle holders or empty baby food jars

Favor cards
Step

1
Measure the height of the votive holder or baby food jar to determine how large to make the picture. You do not need to wrap the picture all the way around the candle holder. Focus instead on making the picture proportionate.
Step

2
Choose a picture you want to use. For a baby shower, you can use a baby picture of the mother-to-be or a copy of the ultrasound picture. Print up enough copies to cover each of your candle holders or baby food jars.
Step

3
Glue the picture onto the surface of the votive holder or baby food jar.
Step

4
Cut a length of ribbon to go around the mouth of the candle holder or baby food jar.
Step

5
Slide a favor tag onto the ribbon with the writing facing up so the guests can read it. Favor tags typically include the parents' names, the date and the baby's name if it is known. These tags are not required, but make for a memorable favor.
Step

6
Glue the ends of the ribbon onto the jar just above the picture you glued onto the holder or jar.
Step

7
Cut extra lengths of ribbon to tie bows for the holders or jars. Tie each bow and glue them over the ends of the ribbon at the top of the jar.
Step

8
Place a votive candle into each candle holder or jar. Choose a color that matches the shower theme, the baby's gender or a neutral baby color, such as white, yellow or green.
Photo Credits
Thomas Northcut/Photodisc/Getty Images